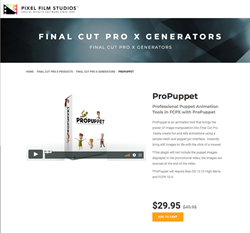 "Bring any image to life with innovative animation controls to make any FCPX project shine!"
ALISO VIEJO, Calif. (PRWEB) May 20, 2018
ProPuppet is an animation tool that brings the power of image manipulation into Final Cut Pro. Easily create fun and silly animations using a simple mesh and puppet pin interface. Instantly bring still images to life with the click of a mouse!
Adding organic motion to still images within Final Cut Pro has never been faster! With ProPuppet video editors now have the ability to create puppet animations with easy-to-use controls. Simply adjust the mesh count and add puppet pins to each corresponding joint. With ProPuppet, users can quickly animate any subject with incredible ease.
The ProPuppet mesh can easily be manipulated by adding pins to anchor the mesh triangles. Limitlessly add pins using the hot-key "Shift + Click". Warping the image is as easy as clicking and dragging the pinpoints. In addition to object manipulation, Final Cut Pro users can also keyframe pins to create silly animations. Simply activate the keyframes next to the control points in the inspector window, scrub down the timeline, and reposition pins.
Redefine the way media animates with complete control over wire mesh. Using simple sliders and mesh on-screen controls, videos editors have the ability to redefine the way media animates in Final Cut Pro. Animating inanimate objects has never been so fun and effortless with ProPuppet.
ProPuppet was professionally designed to work seamlessly inside of Final Cut Pro X. As a generator, the ProPuppet preset can be dragged and dropped onto media and previewed in real time. With the published parameters found in the FCPX inspector, users have the ability to make further adjustments with just a few clicks of a mouse.
Established in 2006, Aliso Viejo, California-based Pixel Film Studios is an innovative developer of visual effects tools for the post-production and broadcast community. Their products are integrated with popular non-linear editing and compositing products from Apple FCPX. Apple, the Apple logo, Mac OS X, and Macintosh are registered trademarks of Apple Inc. in the U.S. and/or other countries. All other trademarks and trade names are the property of their respective owners.