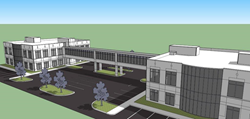 The patient wants to go to one place and everything they need is there.
TAMPA, Fla. (PRWEB) May 22, 2018
Physician Partners of America (PPOA) is expanding, and actively seeking doctors for two medical pavilions under construction in Central Florida.
The state-of-the-art, multispecialty facilities are being built at 1724 33rd Street Orlando, Fla. 32839, and at 450 East Merritt Island Causeway, Merritt Island, Fla. 32953. Each features a 9,060-foot ambulatory surgery center, more than 4,600 square feet of medical offices, and future expansion of more than 11,000 square feet.
Each will offer multiple specialties in addition to imaging, pharmacy and an ambulatory surgery beds. A video tour and more information can be found by clicking this link.
The medical pavilion concept is gaining popularity as patients seek a one-stop experience. It is central to PPOA's ongoing quest to offer patients convenience. "The patient wants to go to one place and everything they need is there," said Rodolfo Gari, M.D., MBA, the company's founder. "One building, one electronic medical records system, providing great care for patients."
Each of the surgical suites is being outfitted with the latest equipment available. In accordance with PPOA's mission, these facilities are operated by and designed for physicians.
"At Physician Partners of America, we are committed to providing the communities we serve with the best medical care available," said President and COO Tracie Lawson. "To achieve this, we strongly believe in allowing physicians to focus on treating patients, and less on the daily challenges presented by the business side of medicine."
An in-house staff of nurses, surgical assistants, technicians, anesthesiologists and administrators will allow partner physicians to focus on treating patients, unimpeded by administrative tasks. PPOA staff will arrange patient scheduling, insurance, billing and payroll.
Another advantage for both doctor and patient will be an integrated electronic medical records (EMR) system that will make comprehensive care a seamless process.
The Orlando facility is scheduled to open in late summer, and the Merritt Island facility in the fall.
About Physician Partners of America
Headquartered in Tampa, Fla., Physician Partners of America (PPOA) is a fast-growing national healthcare company committed to fighting the opioid epidemic through interventional pain management and cutting-edge treatment modalities. It manages operations of a wide range of medical practices and ancillary services. These include pain management, minimally invasive laser spine surgery, orthopedics, primary care, psychological services, personal injury and Workers' Compensation. It also operates AAAHC-accredited ambulatory surgery centers and procedure suites. Its ancillary division includes imaging,intraoperative neuromonitoring, medical supply distribution, pharmacies, a COLA-accredited high-complexity quantitative toxicology lab, and a COLA-accredited pharmacogenomics lab. For more information, please visit physicianpartnersofamerica.com.