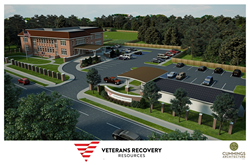 "Many organizations seek to treat the invisible wounds of war, such as PTSD, yet require 4-8 weeks of sobriety. For many Veterans, that simply isn't possible through determination and self-discipline alone. That's one reason we started Veterans Recovery Resources."
MOBILE, Ala. (PRWEB) May 22, 2018
As we near Memorial Day—the day we remember the men and women who died while serving in the U.S. Military—we are pleased to announce that Veterans Recovery Resources has established its permanent campus in mid-town Mobile at 1156 Springhill Avenue. Veterans Recovery Resources is a community-based public charity focused on removing the barriers to mental healthcare—and in so doing, helping to prevent Veteran suicide—for Veterans and their families suffering from substance abuse and mental wellness issues.
There are over 64,000 Veterans in southwest Alabama and numerous local studies suggest that 30-40 percent of them have a need for professional help [1]—yet the barriers to seeking care are numerous. Founder and Executive Director John Kilpatrick established the "by Veteran, for Veteran" organization to remove these barriers and fill a tremendous gap in services.
"Many organizations seek to treat the invisible wounds of war, such as PTSD," said Kilpatrick, "yet 6-8 weeks of sobriety is required before that help can start. For many Veterans, despite their manifest strength, that simply isn't possible through determination and self-discipline alone. That's one reason we started Veterans Recovery Resources."
Currently, Veterans seeking residential care for substance abuse, depression, anxiety and other co-occurring issues in southwest Alabama must travel over 60 miles to Biloxi, MS. When they return, they often do not have a recovery community of Veterans to sustain them, an aspect critical to long-term recovery. "We are dedicated to opening the first Veteran-specific residential substance abuse program based in Mobile. Our unique program will align Veterans with other Veterans right from the beginning," said Kilpatrick. "Veterans will stay together long after their care ends with us. We are focused on building a vibrant community of Veterans and their families who return to the productive lives they richly deserve, serve in their communities and continue to help other Veterans."
That includes forming a tight community with other Veteran service providers in the area. "We are eager to team with Veterans Affairs and the Veterans Health Administration, as well as all other service providers, to expand the care offered to our Veterans locally," said Kilpatrick. "Our programs are very complementary, and the demand is simply too great for any one organization to address."
Thanks to a grant from The Community Foundation of South Alabama's Veterans Initiative and gifts from the Monte L. Moorer Charitable Trust and the Erie Hall Meyer Charitable Fund, the organization has purchased two buildings on a three-acre parcel of land in the hospital corridor of the city. Renovations on the smaller building have already begun. It will serve as the organization's outpatient clinic while funds are raised for the larger building. Naming opportunities are available for donors wishing to make a positive and lasting impact on the Veteran community. Organizations interested in supporting Veterans Recovery Resources in the construction effort including providing in-kind support or services should contact the non-profit at info(at)vetsrecover(dot)org.
The organization expects to port the service model to other communities in the future.
[1] Albright, D., Hamner, K., & Currier, J. (2016, December). Southwest Alabama Veterans Needs Assessment Project: Understanding the Needs of Veterans and Their Families.
[1] Currier, J., Churchwell, M., McDermott, R., Milkeris, L. (2017, July). From Boots to Books: Understanding the Mental Health and Academic Needs of Student Veterans at USA and UWF.