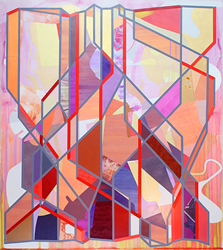 NEW YORK (PRWEB) May 18, 2018
The Mitsui Fudosan America (MFA) lobby gallery at 527 Madison Avenue will showcase a six-piece series of abstract works on wood panels by local artist Aaron Wexler. Located at 54th Street and Madison Avenue, the exhibition is open to the public through August 24, 2018, from 9 a.m. to 5 p.m., Monday to Friday.
The Brooklyn-based artist creates collages of visual complexity using a variety of sources that are displayed on paper, wood panels or plexiglass structures. Wexler's work incorporates into his collages both paper he has painted and cut himself along with commercially printed patterns, book images, photographs and other material. His shapes are arranged to reveal how the prints, the paint and the negative spaces play off each other to resonate on many levels. 
Wexler has a Master of Fine Arts from the School of the Art Institute of Chicago and a Bachelor of Fine Arts from the Tyler School of Art in Philadelphia. In 2013, he was awarded a fellowship from the Virginia Center for the Creative Arts. Wexler has exhibited with galleries in New York City, London and Tokyo. His work is in the collections of numerous public and private collections including the West Collection, Saatchi Collection and the Fidelity Collection.
He has lectured at Parsons/The New School, The Drawing Center, Monmouth University, Penn State University, Pratt Institute and The National Academy Museum in New York. His work also has been reviewed by The New York Times and featured in books and catalogs.
"Mr. Wexler is among a dozen artists or so who have been featured in 527 Madison Avenue's rotating gallery," said Keith Purcell, MFA vice president of asset management and leasing. "We are excited to share his works with both our tenants and the public at large."
Mr. Purcell works with art consultant Jay Grimm, the property's leasing agents James Frederick and Peter Occhi of Cushman & Wakefield, and Hines property manager David O'Donnell, to select exhibitions for the building's ongoing program to support noteworthy and mid-career artists.
527 Madison Avenue, located at the corner of 54th Street in New York City, is a boutique commercial office building designed by celebrated architectural firm FXFOWLE. Completed in 1986, it is owned by an affiliate of Mitsui Fudosan America, Inc., which recently invested in significant upgrades including elevator modernization and a new MdeAS-designed lobby.
About Mitsui Fudosan America, Inc.
Mitsui Fudosan America, Inc. (MFA) is a real estate investment and development company headquartered in New York City and is the U.S. subsidiary of Mitsui Fudosan Co., Ltd. – Japan's largest publicly traded real estate company. MFA's history in the United States dates back to the early 1970s. Since its inception, MFA has acquired and developed numerous office, multifamily and hospitality properties in major markets throughout the U.S. In addition to its significant portfolio of office buildings, MFA recently expanded its development platform, with several office and multifamily development projects launched in New York, Seattle, San Francisco, and Washington D.C.
# # #