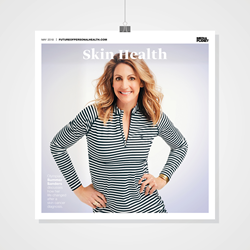 NEW YORK (PRWEB) May 18, 2018
Today, Mediaplanet announces the launch of this May's edition of "Skin Health." This campaign will showcase the innovative work being done in the world of skin cancer research and highlight what industry experts and patients are doing to help protect themselves against harmful UV rays.
Skin cancer is the most common cancer in the United States: one in five Americans will develop skin cancer by age 70. Ninety percent of non-melanoma skin cancers and skin aging are associated with exposure to UV radiation from the sun. There are many ways to prevent skin cancer, such as seeking shade, wearing protecting clothing and, most importantly, using sunscreen. This campaign will share plenty of tips and tricks to help protect yourself this summer.
The print component of "Skin Health" is distributed within this weekend's edition of USA Today in New York, San Francisco, Phoenix, Los Angeles, Houston and New Orleans markets, with a circulation of approximately 250,000 copies and an estimated readership of 750,000. The digital component is distributed nationally, through a vast social media strategy and across a network of top news sites and partner outlets. To explore the digital version of the campaign, click here.
Melanoma survivor and Olympian Summer Sanders graces the cover of the print publication. While training for the Olympics, Sanders wasn't wearing any sunscreen of protective clothing. "Looking back now, I wonder why I would have that mentality," she says. "I was in the pool every waking hour and I never, ever associated swim training with sunscreen."
To protect herself now, Sanders applies sunscreen daily for everyday activities, as well as during outdoor activities like running, surfing and, of course, swimming. She wears hats and exercises early in the morning to minimize sun exposure.
This campaign was made possible with the support of Summer Sanders, American College of Mohs Surgery, Emuaid, American Society for Dermatologic Surgery, Coolibar, Allison Arthur, National Eczema Association and the American Society for Radiation Oncology.
About Mediaplanet
Mediaplanet specializes in the creation of content marketing campaigns covering a variety of industries. We tell meaningful stories that educate our audience and position our clients as solution providers. Our unique ability to pair the right leaders with the right readers, through the right platforms, has made Mediaplanet a global content marketing powerhouse. Our award-winning stories have won the hearts of countless readers while serving as a valuable platform for brands and their missions. Just call us storytellers with a purpose. Please visit http://www.mediaplanet.com for more on who we are and what we do.
Press Contact:
Sarah Wasser
sarah.wasser(at)mediaplanet.com
(646) 979-2831