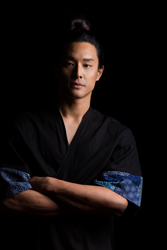 Los Angeles, CA (PRWEB) May 19, 2018 (PRWEB) May 20, 2018
HBO premieres Episode 5 Season 2 of their critically acclaimed episodical series, WESTWORLD, featuring Evan Rachel Wood, Thandie Newton, Anthony Hopkins, Ike Kawaguchi, and many more. Ike worked with HBO to be a part of an extraordinary Shogun World, transforming into a Elite Samurai who will stop at nothing to protect his Shogun. Trapped in a corrupt regime, Ike serves the Shogun with stern charisma.
This episode is the dramatic crescendo of the season drenched in blood and twists. The viewer is immersed in a beautifully captured feudal Japan where Ike encapsulates the drama with the complex and devoted character who serves a demented tyrant. Watch the full episode on HBO. (https://www.hbo.com/westworld/season-2)
Ike goes on to share his future in film, television, music, and more. (http://www.ikekawaguchi.com)
About Ike Kawaguchi:
Ike Kawaguchi hails from the Hollywood Hills. As the child of two Japanese immigrants, his attention to the craft has led him to many creative sectors of expression.Trained in the art of the Katana, Ike Kawaguchi has honed a catalyst craft to the new world whose visions have strength within. Raised in Los Angeles, Ike stays faithful to traditional Japanese culture, yet embraces the charm of Southern California.
About HBO:
For over forty years, people who love entertainment have recognized HBO as the original – the first and best place to find the world's most innovative programming. We believe that amazing things happen when gifted storytellers are allowed pursue their own vision in their own way. That's why so many of television's most creative minds make HBO their home. On traditional pay television, HBO operates seven 24-hour networks, including HBO Family, HBO Comedy and HBO Latino, which offers hit movies, boxing and a diverse array of series in Spanish. More about HBO Latino.Pay TV subscribers can also watch over 150 hours of the best of HBO's programming anytime, with HBO on Demand through their set-top boxes.