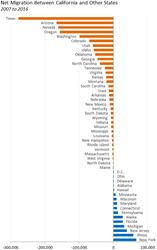 The Next 2 -3 Years In Nevada will Be Epic at This Pace.
LAS VEGAS (PRWEB) May 20, 2018
The exodus from California actually started 10 years ago and has rapidly expanded in recent months.
According to tax filing data from the Internal Revenue Service, 2007 to 2016 saw a steady climb in residents leaving California, and the top recipient location was Texas, from 2007 to 2016. The next five states, Arizona, Nevada, Oregon and Washington, completed the top group.
Las Vegas real estate market is becoming the top choice of many Californians and is trending because of many variables. We found these 3 variables to be the most relevant:
1) Affordable Housing:
Las Vegas, NV median home price beats out 10 metropolitan cities, realtor.com reports. The Las Vegas median home price is $285,000. Predicted sales growth & predicted price growth wins when compared to just a few of the home prices listed below: Charlotte, NC median home price $325.045, Colorado Springs, CO median home price $375,000 and Dallas, TX median home price: $339,000. Check out some of recent listings in the Nevada area at http://www.realestateprosnevada.com
2) Job Market:
When choosing a new destination, the first vital thing to consider is the job market and what's available. Construction companies are struggling to keep up and are actively searching for employees to keep pace with the new home construction demands and recent commercial real estate projects. Another caveat is that Nevada is a no income tax state , allowing Nevada employees to keep more of there paycheck.
3) Small Business Owners :
For most self-employed and / or corporate entities Nevada provides a tremendous benefit over other states due to the lack of state taxes. The non-tax Nevada rule covers many types of taxes, including corporate income tax. When incorporating in Nevada state levied taxes such as corporate income tax, unitary tax, estate tax, gift tax, personal income tax, franchise tax on your income, and admissions tax are not required.
When forming a corporation in Nevada and living somewhere else, please refer to a tax professional to determine the best setup and any tax liability that may exist.
Additionally, in Las Vegas, NV the commercial real estate offices available can be very affordable, here is a resource to help : http://www.realestateprosnevada.com/commercial-real-estate.html
Here are just a few of the gems that are fast tracking:
Amazon recently announced that they are looking to hire 1000 new employees for its 800,000 square foot fulfillment center with a 2019 finish date planned.
Sephora will be hiring 400 new employees, and this is why :
Sephora plans to build a 714,000-square-foot warehouse in North Las Vegas set to open in 2019. Nevada Governor's Office of Economic Development approved the requested economic development package on Thursday, May 17 , 2018.
Nevada is a destination of financial and insurance centers; management consultancies and advertising agencies are forecasting on future locations in the city once the Las Vegas Raiders NFL stadium is finished.
The Next 2 -3 Years in Nevada will Be Epic at This Pace.
The city has a tremendous upswing with recent sport franchise developments, a 2020 completion date scheduled for new the new home of the Las Vegas Raiders NFL Team, the 65,000 seat capacity doomed arena, and the commercial real estate market which is prompting a huge increase in the employment hiring is trending on many fronts.