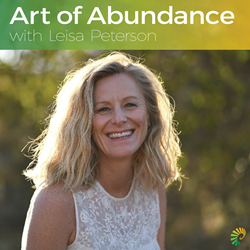 Visualize the Victory
SEDONA, Ariz. (PRWEB) June 08, 2018
Shamanic healer and soul guide, Anahata Ananda, of Shamangelic Healing Center, was recently interviewed by spiritual money coach, business strategist, podcaster and author, Leisa Peterson. In the podcast, they explore six areas of quantum manifestation tools in relation creating an abundantly vibrant life. The pieces to this formula have been designed to be easy to understand and implement. Anahata stresses the importance of fearlessly facing your goals with passion and purpose to become very clear about focusing on what is desired out of life. When this can be achieved, she says, "you can step into your greatness!"
"If you're really going to manifest at a high level in all areas of life, you have to be really passionate about what you do," says Anahata. The first key element has to do with assessing which actions in life bring the greatest joy.
The second tool assists with facing fears, which may be unintentionally causing events to manifest in an undesirable manner. By addressing the concerns holding one back from what they want to be doing, a new excitement level can replace the formerly limiting belief system. "Sometimes it's just the perception that is way worse than the actual experience," warns Anahata. "It's going to take courage, for sure, to make changes". At the soul guide's Shamangelic Healing Center, in Sedona, Arizona, Anahata offers her signature Shamangelic Healing Journey to uncover her client's core passions and assist with overcoming their perceived limitations.
Her third tip for manifestation encourages deeply connecting to the feeling of the vibrant benefits the changes will be bringing. She maintains that in quantum manifestation, the brain's ability to link up to the passion of the heart starts to create more connections. "Focusing on the gain is going to begin to rewire the neural network in the brain, …now quantum manifestation begins to move, even if we haven't done anything yet," Anahata assures her listeners.
The fourth item she covers in the podcast relates to the outpouring of contagious excitement and a person's ability to concentrate on beneficial relationships and the support necessary to carry on. "You're going to need an accountability buddy. Your rallying support is super important." She suggests being surrounded by encouraging people and releasing any habits, friends, or distractions which do not serve to be a positive force toward supporting your passion. Anahata has created an online course on this subject based on two decades of direct experience and research.
The fifth step the shamanic healer follows for quantum manifestation is one of direct, consistent action. "I'm willing to learn, and try it again," is Anahata's strategy. It is not enough to repeat daily affirmations. Concrete steps have to be initiated in order to bring about the desired results sought.
The last piece to the formula requires resilience. Manifestation is about gaining clarity and the more a person can incorporate direct experience, learn from it, and continue going forward, the more lessons they have available to them to draw from on their path toward the goal.
During the forty-five-minute interview, Anahata and Leisa dive in to detail about each step. Listen to the interview on the Art of Abundance podcast.
Anahata Ananda has trained extensively with gifted shamans, energy healers and spiritual teachers from around the world to artfully integrate the fields of spirituality, energy healing, self-empowerment and shamanic teachings. Her client-base spans the globe with individuals from all walks of life who are seeking to heal and awaken to their fullest potential.
Leisa Peterson is a Certified Financial Planner and founder of WealthClinic.com, helping thousands of people develop practical skills for attracting greater wealth, freedom and peace of mind into their lives. She hosts a podcast, blogs about what it means to manage money mindfully and has written several books about ideas for creating more abundance in life.
Anahata offers a variety of Shamangelic Healing services year-round in Sedona, Arizona including private sessions, quantum manifestation, and training courses that incorporate Shamanic teachings and other energy healing modalities. She also offers Tailored Retreats for individuals, couples and small groups that can include a combination of offerings based on various needs and areas of interest.
Shamangelic Healing is a premier center for Shamanic healing and spiritual awakening in Sedona. It is nestled beneath Thunder Mountain with breathtaking views and within walking distance to a medicine wheel and healing vortexes, making it the perfect setting for quantum manifestation.
For detailed descriptions and a calendar of all training courses and spiritual awakening services offered by Anahata visit https://www.shamangelichealing.com/