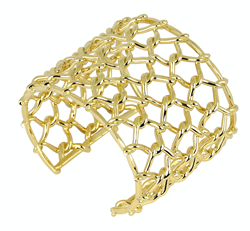 The launch is comprised of four collections: Catena, Rivette, Landmark, and Token. Each has its own personality, and is inspired by an aspect of our surroundings or Brooklyn history.
NEW YORK (PRWEB) May 23, 2018
Brooklyn has an essence. Individuality, passion, artisanship, and style are signature. Iconic landmarks are the borough's canvas, and everyday New Yorkers come to the city to innovate, remake, and build from the ground up. From the spirit of craftsmanship comes Brookland, a jewelry line made in Brooklyn, for the world, from the world's finest materials. Meticulously formed with reclaimed precious metals and responsibly sourced gemstones, the modern heirloom is elevated. Crafted by skilled American workers, Brookland collectibles have Brooklyn soul.
The four new collections are expressively detailed. Barbara Brownstein and Jennifer Sholtis Garfall are the designers behind the line. Urban influenced, they fuse local aesthetic with an eye for edgy, elegant construction. Barbara Brownstein says, "Jenn and I were inspired by the landscape, rich history, and unique character of Brooklyn. We hoped to create a collection of casually elegant jewelry that reflects Brookland attitude."
Brownstein explains, "The launch is comprised of four collections: Catena, Rivette, Landmark, and Token. Each has its own personality, and is inspired by an aspect of our surroundings or Brooklyn history. All pieces are designed with a cohesively modern aesthetic, and are best when worn mixed, matched, and layered to express one's own individual jewelry style."
Colorfully enameled, the Token collection pays tribute to the city's bullseye subway tokens. Instead of tokens being "good for one fare," Brookland's Token collection can be layered and stacked, redeemably "good for a wish" or an adventure. Brooklyn's official motto is Een Draght Maeckt Maght, or "In unity there is strength." Vibrant pendants and rings with the sentiment can be collected and worn to inspire resolve. Available in 18K gold and silver, Token incorporates hand-applied enamel, alongside traditional metalsmithing techniques.
A staple of schoolyards and parks, the city's chain fencing has inspired the Catena collection. The word "catena" is Latin for "chain." Translated into precious metals, the recognizable interlacing is elevated when wrapped delicately around one's wrist, or twisted into a pair of elegant drop earrings. Linking past and future, the Catena collection is a bridge celebrating everyday art and independent spirits.
Jennifer Sholtis Garfall, says, "In many ways, we designed the Brookland collection for ourselves. It's the jewelry we want to wear, every day. It is modern luxury: easy, confident, authentic. The pieces are timeless, but never boring. They are a tribute to the strength and diversity of the modern woman. I love that I can wear this collection from the bus stop to business meetings to dinner with ease. This jewelry is meant to fit seamlessly into your wardrobe and instantly become your signature."
Garfall continues, "These pieces are not meant to live in a jewelry box. The Token pendants, for instance, serve as colorful reminders of your personal journey – where you've been, and where you are going. They are a wearable souvenir of sorts – of your city, your life, and your strength."
Brooklyn's tree-lined cobblestone streets, covered in stoops where old and new friends gather, inspires the duo's third collection. A borough synonymous with brownstones, Landmark is forged to capture their character. Over each brownstone doorway is an arch and keystone. The keystone keeps all in place, with strength defined by balance. Like the collection, the Landmark woman is balanced, giving, and an authentic keystone of her community.
The Brookland Landmark Star, another Landmark signature motif, was inspired by masonry anchors that are ubiquitous in Brooklyn. "There's a particular one across the street from the Army Terminal that caught our eye," says Jennifer Sholtis Garfall, "We love the symbolism of these architectural details — they add such beauty to the exterior, yet they also hold up the buildings, just as the modern woman is the support structure for much of her world!"
The Brooklyn Army Terminal is a modern industrial campus powered by the rich legacy of the South Brooklyn waterfront. Now, the manufacturing hub is home to more than 100 businesses, including Brookland, which occupies a 37,500 sq. ft. loft for the design and manufacture of jewelry.
Ted Doudak, internationally recognized for visionary leadership in American-made manufacturing, oversees the engineering and production of Brookland. He says, "Here, the best of artisanship and mechanics combine, infusing energy into our neighborhood. We have a commitment to support responsible sourcing, as well as the local community. Our roots are the drive and backbone of the jewelry we create." An industry expert in vertically integrated manufacturing, Doudak has over three decades of specialized experience developing precious metal accessories. "With jewelry, everyone has a go-to. Brookland is exceptionally crafted in gold and sterling silver to be part of one's basics assortment."
In the fourth collection, a building block is at the heart – the rivet. Simple in shape, it has been renewed with bold, colorful designs. Brooklyn played a major role in the industrial revolution, and local production is still thriving today. Barbara Brownstein states the designers were, "Inspired by the rivets that hold the girders on the Brooklyn Bridge." Rivette is a collection of empowerment, for those who appreciate modern simplicity and function. Stackable, elegant, and strong, Rivette cuffs and rings are available in a variety of options: with sterling silver, enamel, white diamonds, or black spinel.
To view the collections online, visit the Brookland Jewelry website at http://www.brooklandjewelry.com. To contact the company directly, email sales@brooklandjewelry.com or visit the website's contact page. Follow Brookland Jewelry on Instagram, Facebook, or Twitter. For questions regarding this press release, contact Olga Gonzalez at Pietra PR at 212-913-9761 or at info@pietrapr.com.
About Brookland Jewelry
Inspired by the streets, industry, and artisanship of Brooklyn, NY, Brookland Jewelry brings the charm of the borough to the world. Four distinguishable collections: Token, Catena, Landmark, and Rivette, fuse local aesthetic with luxury. Handcrafted and designed in Brooklyn, the jewelry is responsibly sourced using the world's finest materials.