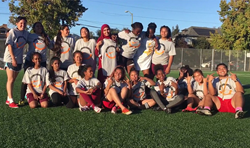 This is an excellent program and we are happy to be a small part of it.
SAN RAFAEL, Calif. (PRWEB) May 22, 2018
Donations to Soccer Without Borders were made by divisions of US Sports Camps including Nike Volleyball Camps, Nike Soccer Camps, Nike Golf Camps, Nike Rugby Camps, and Camp All Star.
Soccer Without Borders has been in operation since 2006 and works to address the three critical issues facing young people in underserved communities around the world. First key issue is the lack of safe spaces where young people feel cared for, second is the lack of opportunity for youth to actively explore social issues and community challenges, and the third issue is the lack of social capital and access to potential opportunities for education, employment, and personal growth. Through thousands of hours, conversations, successes, and failures in 11 countries with youth from more than 65 nations, they have built an adaptable program framework that deliberately addresses the most pressing needs of targeted audiences while leaving space for authentic local adaptation.
"We are fortunate to have programs like these in our local community to help underserved youth," says Jan O'Connor, EVP of Nike Soccer Camps. "This is an excellent program and we are happy to be a small part of it."
The defining characteristic of SWB is its family atmosphere of its soccer teams. This family bond is created through 35+ weeks of program activities each year, with 8-15 hours of scheduled activities available to each team, in addition to unscheduled, informal time with teammates, coaches, and mentors.
More information about Soccer Without Borders can be found online at http://www.soccerwithoutborders.org.
Players, coaches, and parents interested in Nike Sports Camps can visit http://www.ussportscamps.com or call 1-800-645-3226.
About US Sports Camps
US Sports Camps (USSC), headquartered in San Rafael, California, is America's largest sports camp network and the licensed operator of Nike Sports Camps. The company has offered summer camps since 1975 with the same mission that defines it today: to shape a lifelong enjoyment of athletics through high quality sports education and skill enhancement.