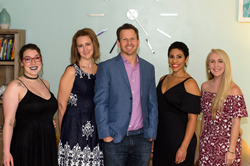 We help our clients make an impact with their audience using the power of social media. We are Impact Social. - Corey Perlman, Founder
ATLANTA (PRWEB) May 22, 2018
eBoot Camp, LLC, a full service social media and digital marketing agency, will be changing its name and branding to become Impact Social Agency. Founded in 2009 by Corey Perlman, eBoot Camp's original name reflected the title of the Amazon.com bestselling book written by Perlman, and has stayed with the company for the past 9 years. Impact Social Agency's Account Managers work with several clients to enhance their digital presence and increase marketing efforts. Through email marketing, consulting, social media management, and online advertising, they are able to grow businesses and keep them in the forefront of the minds of their customers.
In addition to making an impact on their clients' online presence, the values of the company also focus on making a difference. Impact Social Agency works to volunteer with various organizations and nonprofits to help them improve their digital profiles, free of charge. This is a project that is done on a monthly basis, and it allows the organization to receive professional consulting so they can present themselves to the public as effectively as possible. "It has been such a joy to watch this company grow over the last ten years," says Perlman, "As technology has changed, so have we, and thus it was time to rebrand ourselves to match our value proposition. We help our clients make an impact with their audience using the power of social media. We are Impact Social."
Made up of several Account Managers and bloggers, Impact Social Agency will continue their digital marketing services while working to make an impact offline as well. The new name and branding is effective immediately, and will be implemented across the company's website and social media profiles.
Impact Social Agency
Impact Social Agency is a full service social media and digital marketing agency founded by Corey Perlman in 2009. Through email marketing, social media, advertising and other methods of digital advertising, Impact Social Agency works to build and maintain the online presence of their clients. You can learn more about Impact Social Agency on the web at http://www.impactsocialagency.com