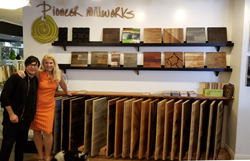 We are delighted to welcome Pioneer Millworks to our dynamic list of vendors and manufacturers and look forward to the endless possibilities that the introduction of their phenomenal products will bring to our industry of design
PORTLAND, Ore. (PRWEB) May 21, 2018
The Hospitality! resource and showroom space within The REEF/LA Mart in downtown Los Angeles, California is displaying a variety of samples of reclaimed and sustainable wood products from Pioneer Millworks. This is the place in LA to see and feel the wood, available to trade and professionals five days a week and also open to the public on Wednesdays or by appointment.
"A few years ago, I recognized as a designer the lack of resource showrooms to trade and the value they could bring to our design community. To fill this void, the Hospitality! showroom came about as a place to be introduced to, explore, and learn about new products—a location to grow professionally! We are delighted to welcome Pioneer Millworks to our dynamic list of vendors and manufacturers and look forward to the endless possibilities that the introduction of their phenomenal products will bring to our industry of design," said Annika Sandberg, Principal/CEO Hospitality!
Pioneer Millworks has a 30-year reputation of providing creative and consistent wood product solutions across the nation for retail, office, hospitality, and residential spaces. The new display in LA provides an easily accessible way to experience many of their products in person, to better understand tones, textures, and customization possibilities with their storied wood.
"Wow, I feel like the luckiest guy! We now have great partners in Annika and her coworker Christian, and a perfect location in the thriving LA downtown corridor," shared Jonathan Orpin, Founder/President of Pioneer Millworks.
Hospitality! is a downtown LA-based interior architecture and interior design firm, with a state-of-the-art resource showroom which has access to products and surfaces suitable for both, hospitality and commercial, as well as residential installations.
About LA Mart:
LA Mart is the West Coast's most comprehensive collection of fine regional and national showrooms available to the trade and consumer buying communities 5 days a week. Encompassing 500,000 square feet of gift, home, furniture, and lifestyle lines, the LA Mart Gift + Home + Design Center features thousands of premium product lines, from custom-manufactured to nationally-branded merchandise, represented in our permanent showrooms.
About Pioneer Millworks:
Pioneer Millworks is the leader in the reclaimed wood industry, with experienced wood design experts working directly with clients and mills crafting products from both coasts. To date, they've rescued nearly 29 million board feet of old wood from rot and landfills, giving it new life as flooring, paneling, millwork, cabinetry, and more. All of their wood products are manufactured in a way that's healthy for customers, employees, and the environment. Pioneer Millworks is FSC-certified and Green America approved. All of their products are LEED point eligible.