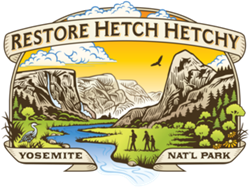 San Francisco's water system is not above the laws of California.
BERKELEY, Calif. (PRWEB) May 21, 2018
Restore Hetch Hetchy will present oral arguments to California's 5th District Court of Appeal in Fresno at a hearing on May 30th at 9:00 a.m. to determine whether San Francisco's O'Shaughnessy Dam and Hetch Hetchy Reservoir must comply with California's Constitutional law regulating water distribution (Case No. CV 59426 – http://bit.ly/29CQTkJ).
Restore Hetch Hetchy's case alleges that the reservoir that is flooding the Hetch Hetchy Valley in Yosemite National Park, burying it under 300 feet of water, violates the California Constitution's mandate prohibiting any "unreasonable method of diversion."
The Court of Appeal hearing is a result of a trial court ruling that Hetch Hetchy Reservoir is exempt from the California Constitution's mandate that the "method of diversion" for all water systems must be reasonable. The trial court also ruled that any such complaint should have been filed within 4 years of the Constitution's adoption in 1928.
"San Francisco's water system is not above the laws of California," said Restore Hetch Hetchy Executive Director Spreck Rosekrans. "We believe that the court will rule in our favor and that Californians will finally have a hearing on the merits of restoration."
Restore Hetch Hetchy seeks a hearing in the California courts which would weigh the significant value of restoration against the cost of water system improvements necessary for San Francisco to retain its existing Tuolumne River supplies without the Hetch Hetchy Reservoir. "Restore Hetch Hetchy is prepared to present evidence that, in this day and age, flooding a wondrous valley, in a world-renowned national park by a municipality, is not reasonable given the extraordinary value of a restored Hetch Hetchy Valley and the availability of other water storage options for the City," continued Rosekrans.
Amicus briefs advocating that the City must comply with the California Constitution and that the State should have an opportunity to hear Restore Hetch Hetchy's claim have been filed by the California Attorney General on behalf of the State Water Resources Control Board, two former California Resources Secretaries, two former California Attorneys General, two former Yosemite Superintendents, leading water law professors, and the Earth Island Institute. "We are pleased that our position has been supported by so many amicus curiae ("friends of the court"), and in particular that California's Attorney General agrees that we have a right to a trial on the merits," said Richard Frank, co-counsel for Restore Hetch Hetchy.
"Congress specifically required that all elements of the City's water system comply with all California water law and that California always retains the final say as to whether San Francisco's flooding of the Hetch Hetchy Valley remains reasonable or whether a different diversion and storage location should be identified and implemented," said Michael Lozeau, chief counsel for Restore Hetch Hetchy. "In addition, the trial court's ruling, that the statute of limitations for challenging the City's current Hetch Hetchy diversions under the California Constitution expired in 1932, is inconsistent with past court rulings that form the bedrock of State water law and ignores the City's ongoing duty to only employ a reasonable method of diverting water from the Tuolumne River."
Citizens who are interested in joining campaign to restore Yosemite's Hetch Hetchy Valley can find out more at http://www.hetchhetchy.org.
Restore Hetch Hetchy's mission is to return the Hetch Hetchy Valley in Yosemite National Park to its natural splendor while continuing to meet the water and power needs of all communities that depend on the Tuolumne River.
Media Relations
Melanie Webber, mWEBB Communications, (949) 307-1723, melanie(at)mwebbcom(dot)com