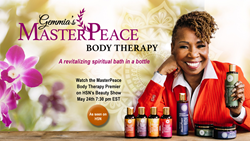 All things are energy. It is not enough to have a peaceful state of mind, it's also necessary to create and maintain peaceful energy.
(PRWEB) May 22, 2018
New York Times bestselling author, spiritual life coach, and host of the award-winning TV series "Iyanla: Fix My Life," Iyanla Vanzant debuts her line of MasterPeace Body Therapy products on HSN, May 24 at 7:30 pm EST. MasterPeace Body Therapy products lie at the intersection of ancient herbalism, modern science, and spiritual alchemy to cleanse your body and clear your energy.
Revitalizing Spiritual Baths in a Bottle
"MasterPeace Body Therapy is designed to cleanse the body, uplift the mind, and heal the spirit," says Vanzant. Based on formulas developed by her daughter, Gemmia, and using natural ingredients free of harsh chemicals, the MasterPeace product line springs from the healing practices of the family's lineage of spiritually-conscious medicine women. "For centuries, cultures around the world have harnessed the power of herbology and aromatherapy, but today, we've lost touch with earth medicine, turning instead to our medicine cabinets," says Vanzant. "MasterPeace is a call to return to Mother Nature and remember her mighty medicine."
The MasterPeace Body Therapy line of body washes, body butters, and scrubs contains authentic African Black Soap, sacred herbs, and fragrant aromatherapy oils that feel good, smell good, and are good for you. Formulated to promote health and well-being, MasterPeace products work to transform daily bathing into a life-affirming spiritual practice that promotes clarity, raises consciousness, and realigns the body's subtle energy fields. "All things are energy. It is not enough to be in a peaceful state of mind, it's also necessary to create and maintain peaceful energy." Vanzant says.
Watch HSN for a MasterPeace Free Gift
Viewers are encouraged to tune into the HSN Beauty Show on May 24 at 7:30 pm EST and listen in for a special phrase which they can use to receive a free gift! To preview the products on HSN, please visit http://gohsn.co/MasterPeaceBeauty.
About Iyanla Vanzant
Iyanla Vanzant is the host and executive producer of OWN's acclaimed and award-winning series, "Iyanla: Fix My Life." She is one of the country's most celebrated writers, public speakers, and among the most influential, socially engaged, and acclaimed spiritual life coaches of our time. Dedicated to facilitating the growth and evolution of human consciousness, Iyanla's body of work spans over three decades and includes 18 published books, six New York Times best-sellers (translated into 23 languages and with sales exceeding twelve million copies), CDs, television, radio and stage performances. Her most recent book is Get Over It! Thought Therapy for Healing the Hard Stuff. When not writing or appearing on television, Iyanla lectures and facilitates workshops nationally and internationally. With her no-nonsense approach and underlying message of, "live better by loving yourself," Iyanla has ignited a universal spark of self-discovery.
About HSN
HSN is a leading interactive entertainment and lifestyle retailer, offering a curated assortment of exclusive products and top brand names to its customers. HSN incorporates entertainment, inspiration, personalities and industry experts to provide an entirely unique shopping experience. At HSN, customers find exceptional selections in Health & Beauty, Jewelry, Home/Lifestyle, Fashion/Accessories, and Electronics. HSN broadcasts reach approximately 90 million households (with live programming 364 days per year) and its website — HSN.com features more than 50,000 product videos.
Keyword:
#HSNBeauty, #MasterPeaceBodyTherapy, #BeautyReport