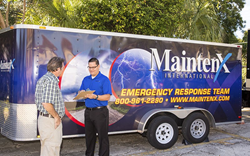 ...It's important to schedule professional yearly preventative maintenance and inspection to reduce the likelihood of roof damage.
TAMPA, Fla. (PRWEB) May 23, 2018
The 2018 Atlantic hurricane season begins June 1, and researchers are predicting a more active than average year. MaintenX wants facility managers to prepare for hurricane season by getting a roof inspection for their building. Since it can be dangerous to assess a roof without proper equipment and training, it's important to schedule professional yearly preventative maintenance and inspection to reduce the likelihood of roof damage.
In addition to normal wear and tear, debris can accumulate on a business's roof throughout the year and cause damage should high winds occur. "A small leak or tear in your roof lining may not look like a problem at first, but add in the high winds and heavy rains of hurricane season and small issues can turn into big and costly problems," said Bill Schaphorst, MaintenX's VP of Business Development.
On flat roofs, natural debris like leaves can hold moisture and branches can tear roof seams, leading to water damage. Man-made debris like trash or tools can also be left behind by work crews and cause puncture or impact damage. Angled roofs may not collect debris, but they are still susceptible to issues like loose shingles, torn flashing and clogged gutters, which can all lead to more damage than necessary during a storm.
Roof inspections are also a critical part of being a good business neighbor. Schaphorst adds, "Roof inspections are also good for businesses around you, as flying roof parts or debris can damage the buildings nearby as well as your own."
MaintenX is proud to have assisted facility managers with hurricane preparation services for over 35 years. For more information about MaintenX and ways they can help facility managers prepare for hurricane season, visit http://www.maintenx.com.
ABOUT MAINTENX INTERNATIONAL:
MaintenX International is a fully-licensed, facilities repair company. They are one of the largest national self-performing facility maintenance and repair companies in the U.S. MaintenX has created a network of knowledgeable and professional technicians throughout the country. With their team of well-trained technicians, MaintenX self-performs and manages facility maintenance for clients. In the event there is not a MaintenX technician in the area, the company has fostered a network of preferred vendor partners throughout the country to provide superior service for their clients. For more than 35 years, MaintenX has been expertly serving multi-location retail stores, restaurant chains, and Fortune 500 companies nationwide.