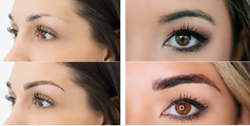 People who are considering taking advantage of any kind of semi-permanent make-up should be certain to carefully research their choice of a provider
LOS ANGELES (PRWEB) May 30, 2018
A May 17th article on 11ABC discusses the rising popularity of microblading in North Carolina, where many women are benefiting from the process which typically lasts between eighteen months and two years and enjoying more attractive and fuller-looking eyebrows as a result. The article goes on to recommend that people who are considering taking advantage of any kind of semi-permanent make-up should be certain to carefully research their choice of a provider. Elnaz Shariat, known familiarly to her clients and colleagues as Ellie, and her team at Beverly Hills Permanent Makeup agree that – whatever part of the country they live in -- it's very important for women and men to select a knowledgeable and experienced microblading practitioner to perform their work.
Beverly Hills Permanent Makeup says that, while anyone who offers microblading to the public is legally required to have a license, the process is exactly the same as it is for a tattoo artist. When it comes to microblading and permanent make-up, the salon says that that not everyone who offers it is actually a fully trained professional in this area, but Ellie is known throughout the Los Angeles aesthetic community as one of the most knowledgeable and gifted experts in the science and art of microblading. The salon adds that one point the 11ABC article makes is that it's important for microblading artists to have had training in terms of controlling blood borne pathogens; Ellie has had detailed pathogen training and holds numerous certifications in skin science, pigments and, of course, permanent make-up and microblading.
While having the benefit of an experienced professional with a strong commitment to the safety of her clients is essential, the salon says that it's the ultimate outcomes that people are most interested in. Beverly Hills Permanent Makeup points to its five star rating on Yelp and the rave reviews of Ellie's many delighted clients who effusively praise their results and her ability to keep things as comfortable as possible.
The salon adds that while microblading is best known for creating fuller, more flattering and elegant eyebrows, it also has other important applications. People who suffer from alopecia and other conditions result in hair loss, including side effects of chemotherapy and radiation treatments, often take advantage of the technique. Beverly Hills Permanent Makeup adds that microblading is not only for simulating or supplementing hair. Specifically, breast cancer survivors often use it to restore all or part of areolas lost during treatment.
Beverly Hills Permanent Makeup says that it's extremely important for women and also men who are interested in microblading to choose the right provider, but it's also important to realize that not everyone is a candidate for the procedure. People with certain types of allergies, for example, may be better off not getting a treatment. Readers who are interested in seeing whether microblading makes sense for them are invited to reach out to Ellie and Beverly Hills Permanent Makeup by calling 424-BHPM-411 (424-2476-411). They can also visit the salon's web site at https://www.bhpermanentmakeup.com/.