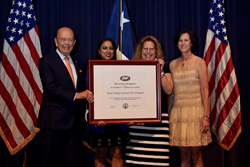 Technologent's achievements have undoubtedly contributed to national export expansion efforts that support the U.S. economy and create American jobs.
IRVINE, Calif. (PRWEB) May 21, 2018
U.S. Secretary of Commerce Wilbur Ross presented Technologent with the President's "E" Award for Exports at a ceremony in Washington, D.C., on May 21. The President's "E" Award is the highest recognition any U.S. entity can receive for making a significant contribution to the expansion of U.S. exports.
"Technologent has demonstrated a sustained commitment to export expansion. The "E" Awards Committee was very impressed with Technologent's strong growth in exports since establishing an international sales strategy four years ago. The company's sales to 25 countries were also particularly notable. Technologent's achievements have undoubtedly contributed to national export expansion efforts that support the U.S. economy and create American jobs," said Secretary Ross in his congratulatory letter to the company announcing its selection.
"We are honored to receive the President's "E" Award For Exports and to be recognized by both our country and clients for our strong international business capabilities," said Technologent President Marco Mohajer. "We look forward to continuing to cultivate our strategic relationships abroad while supporting our country's global market presence and delivering high quality American designed products."
In total, Secretary Ross honored 43 U.S. companies and organizations from across the country with the President's "E" Award for their role in strengthening the U.S. economy by sharing American ingenuity outside of our borders.
U.S. companies are nominated for the "E" Awards through the U.S. Commercial Service, part of the Department's International Trade Administration. With offices across the United States and in embassies and consulates around the world, The International Trade Administration lends its expertise at every stage of the exporting process by promoting and facilitating exports and investment into the United States; administering Anti-Dumping and Countervailing Duties orders; and removing, reducing, or preventing foreign trade barriers.
About the "E" Awards
In 1961, President Kennedy signed an executive order reviving the World War II "E" symbol of excellence to honor and provide recognition to America's exporters. Criteria for the award is based on four years of successive export growth and case studies which demonstrate valuable support to exporters resulting in increased exports for the company's clients.
For more information about the "E" Awards and the benefits of exporting, visit http://www.export.gov.
About Technologent
Technologent is a Global Provider of Edge-to-Edge Information Technology Solutions and Services for Fortune 1000 companies. We offer a unique blend of business practices that are aligned to solve for top CIO concerns. Our core competencies focus on data center infrastructure, business continuity, data protection, service automation and orchestration, continuous intelligence, monitoring, connectivity, collaboration and cybersecurity. These practices are supported by our professional services, digital transformation services and financial services offerings. By providing custom solutions and services designed to fit your business needs, we enable your organization to be more agile, responsive and competitive. Technologent empowers your company to ascend to the next level in IT.
Headquartered in Irvine, CA, Technologent has offices throughout the US and proudly serves clients around the world. When partnering with Technologent, organizations benefit from the highest caliber of professionals, committed to delivering exceptional business outcomes backed by unmatched service and support.
Technologent is a trademark of Thomas Gallaway Corporation in the United States and other jurisdictions.