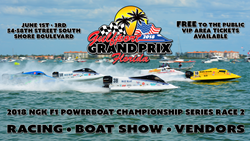 The NGK Spark Plugs Formula One Powerboat Championship is heading to Gulfport, Florida on June 1-3, 2018 for its second stop of the season at Boca Ciega Bay and the 2nd Annual Gulfport Grand Prix.
Gulfport, Florida (PRWEB) May 21, 2018
These sleek Formula 1 boats will be joined by two other racing classes that guarantee to fill two solid days of racing with speed and fun. Fans also will enjoy the jouncing Tri-Hulls and the mini Formula Light rockets. More than 45 racers attended the 2017 Gulfport Grand Prix while officials are expecting that number to be even higher this year.
On Thursday, children from St. Petersburg's John Hopkins All Children's Hospital and the St. Petersburg Police Athletic League, will be assisted by professional Formula 1 boat racers to compete in their own remote-controlled boat race. They will then get an opportunity to sit in one of the actual race boats! Afterward, O'Maddy's Bar & Grille will treat these special racers and their families to lunch in the park.
The Gulfport Grand Prix, in cooperation with the City of Gulfport, is FREE for spectators and will allow fans to get a close-up view of the race boats in the pit areas. Attendees will also find free parking shuttles as well as valet parking for $12 per day. Boat show and vendor booths will line Shore Blvd. South and Beach Blvd., centered around the Gulfport Recreation Center, opening at noon on Friday, June 1st at the same time as the NGK F1 race pit set-up.
Special VIP tickets for two days of prime seating, drinks and lunch are on sale at O'Maddy's Bar & Grille for just $45. Proceeds will benefit the Michael J. Yakes Foundation (http://www.mygulfportfoundation.org), a local non-profit organization whose mission is to help underprivileged children and seniors in the Gulfport, Florida area.
Racers from all corners of the continent will spend two full days competing in preliminary races, vying for the final crowning of victory on Sunday afternoon, June 3rd. Florida fans will have the opportunity to cheer several Florida stars, including hard-driving Ashton Rinker #20 of Riverview, FL, the brother of last years' Gulfport Grand Prix champion, Rob Rinker #30, and the son of 2017 NGK F1 Champion, Terry Rinker #10 of Riverview, FL who decided 2017 was his year to retire from boat racing after a dazzling championship-filled career of over three decades.
Other Florida Formula 1 drivers expected to be on the entry list: Fred Durr #96 of Port Charlotte, Tom Ludwig #81 of St. Petersburg, and hometown racer, Bill Joule #38 of Gulfport, who was instrumental in helping to establish the inaugural Gulfport Grand Prix.
Round 1 of the 2018 Series was hosted May 4-6 in Port Neches, TX. Ashton Rinker #20, will arrive at Round 2 in Gulfport leading the championship points standings, despite seeing strong contenders, Tracy Hawkins #2, scoring the final victory in Port Neches and Greg Foster #53, who earned the pole position from the newly introduced Timed qualifying sessions.
The exciting racing from Port Neches included double wins by 17-year-old racing sensation, #8 Jeremiah Mayo of Richmond, Texas, who outran every racer in two different boat racing categories, taking the victory in the Tri-Hull class as well as Formula Lights. The J Hydro Class was won by Jack Schubert in his very first victory in an NGK Series Final.
Greenlight TV will film the NGK Spark Plugs racing action all season long, producing six 30-minute shows to be aired on CBS Sports Network. The racing action from Port Neches, TX will air on Wednesday, May 23, 2018 at 7:00 PM EST and 10:00 PM EST and the Gulfport Grand Prix will air on Wednesday June 20, 2018 at 8:30 PM ET and 11:30 PM EST.
Watch for The Gulfport Grand Prix to be Live Streamed on the NGK F1 Powerboat Championship Facebook page on Sunday, June 3rd. Visit https://www.facebook.com/NGKF1PowerboatChampionship
For more information about the NGK F1 Powerboat Championship, visit the series' website at http://www.ngkf1.com. To learn more about the activities at the Gulfport Grand Prix visit http://www.gulfportgrandprix.com.
2018 The NGK Spark Plugs Formula 1 Powerboat Championship Schedule:
May 4-6 Port Neches, TX - F1, F-Light, Tri Hull, J-Hydro
http://pnriverfest.com/
June 1-3 Gulfport, FL - F1, F-Light, Tri Hull
http://www.gulfportgrandprix.com/
June 15-16 Nashville, TN - F1, F-Light, Tri Hull, J-Hydro
http://thunderonthecumberland.com/
Aug. 3-5 Pittsburgh, PA - F1, F-Light
http://yougottaregatta.org/
Aug. 10-12 Springfield, OH - F1, F-Light
http://www.springfieldf1grandprix.com/
Sept. 14-16 Orange, TX - F1, F-Light, Tri Hull, J-Hydro
http://www.orangetexas.org/sport-tunnel-boat-races/
The NGK Spark Plugs Formula 1 Powerboat Championship is ecstatic to have the strong commitment of title sponsor, NGK Spark Plugs - The Ignition Specialist. Since 1936, NGK Spark Plugs has been the world leader in technology, innovation, and world-class quality in the design of spark plugs and oxygen sensors. Today, NGK manufactures NGK Spark Plugs and NTK Oxygen Sensors for virtually every automotive manufacturer in the world.
NGK has built a reputation for quality and reliability, and a commitment to excellence continues to be the driving force behind the company's advanced research and development programs.
In North America, NGK is headquartered in Wixom, MI and maintains manufacturing, inventory, and distribution facilities in Irvine, CA, Sissonville, WV, and Chicago, IL.
For more information about NGK Spark Plugs, (U.S.A), Inc., please visit our website http://www.ngksparkplugs.com.