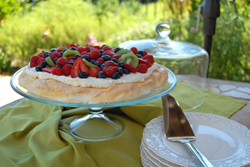 SAN DIEGO (PRWEB) May 22, 2018
With temperatures rising, Lajollacooks4u is rolling out its new summer menu, a collection of seasonal farm-to-table recipes that are both fresh and delicious. New menu items include: Arugula Salad with Pickled Grapes in a Maple Vinaigrette, Grilled Cauliflower Steaks with Saffron Tomato Sauce and Grilled Branzino and Pavlova with Grilled Fruit and Goat Cheese Mousse.
The San Diego-based team building and cooking events company anticipates this new menu will be a hit with its guests, who travel from around the globe to participate in its renowned team building events and corporate cooking challenges.
Each event begins as participants are split into groups using various ice breakers and interactive games. From there, group members are then divided into teams and guided by Chef Jodi Abel's staff as they compete against each other in creating several different menu items. Participants are judged by taste, presentation and teamwork, and ultimately compete to be the team with the most points. There is even a marketing "infomercial" component, which entails each team collaborating on how to best "sell" their menu item to the judges. Once all teams have completed their recipes, participants reconvene to enjoy the gourmet meals they co-produced, all while taking in the beautiful view overlooking La Jolla.
The company's cooking challenges also serve as a fabulous summer activity for families to participate in. Lajollacooks4u has several different cooking programs to choose from depending upon the size of group and budget, and Chef Jodi also can conduct these cooking challenges from guests' homes or other desired venues.
For more information on the company's service offerings, please visit http://www.lajollacooks4u.com.
About Lajollacooks4u:
Lajollacooks4u, founded in 2008, provides a unique culinary experience for corporate cooking challenges and special events in a magnificent setting overlooking the Pacific Ocean. Based in La Jolla, California, Lajollacooks4u has enjoyed record growth since its inception and has been ranked as the top in its category by the popular travel review site, Trip Advisor. Chef Jodi Abel also recently released her cookbook, Lajollacooks4u: California Cuisine, an accumulation of the favorite recipes her guests have been raving about. For more information about her cooking events, as well as her cookbook, please contact jodi(at)lajollacooks4u(dot)com.