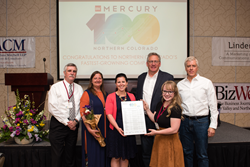 "It's a testament to our amazing team, our innovation, and the strong economic vitality in northern Colorado." – Jay Dokter, CEO, YouSeeU
Loveland, CO (PRWEB) May 21, 2018
YouSeeU™ finished first in Flight III of the 2018 Mercury 100 list of northern Colorado's fastest-growing private companies. Compiled by BizWest, the list ranks companies based on their percentage revenue growth over a two-year period. Flight III consisted of companies that generated revenue ranging from $3,000,0001 to $5,900,000 in 2017.
"We are honored to be included on this exclusive list," said Jay Dokter, YouSeeU's CEO. "It's a testament to our amazing team, our innovation, and the strong economic vitality in northern Colorado. These ingredients enable us to actively pursue our passion, which is creating and providing software that equips learners with the critical soft skills they need to succeed. We look forward to continued growth as our team works hard to improve the learning experience in classrooms and workplaces through relentless innovation."
Since its inception in 2009, YouSeeU's primary goal has been to close the soft skills gap. The company's flagship product, Bongo, is a video assessment platform that enables educational institutions, corporate training programs, and test publishers to improve and assess learners' soft skills at scale. With the help of the growing entrepreneurial community in Loveland — YouSeeU's headquarters since its founding — the company's expanding team pushes closer to that goal every day.
To be eligible for the Mercury 100 list, company headquarters had to be based in Boulder, Broomfield, Larimer, or Weld counties. There was also a minimum initial year revenue threshold that had to be met. Snelling Staffing Services, Windermere Real Estate, CorKat Data Solutions, and Otis, Bedingfiled & Peters LLC joined YouSeeU in the top five of Flight III.
About YouSeeU
YouSeeU, creator of Bongo, is a global leader in video assessment and soft skill development. With its proprietary video technology and powerful feedback capabilities, Bongo enables the mastery of communication, critical thinking, and leadership. YouSeeU was founded in 2009 and is headquartered in Loveland, Colorado. For more information, visit http://www.youseeu.com.