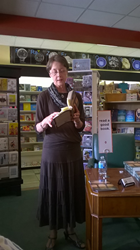 This book is a richly woven, unforgettable symphony of feeling and words that bring awareness to the rare, always fatal Batten disease.
CHARLOTTE, N.C. (PRWEB) July 17, 2018
Award-winning author Linda Vigen Phillips launches her second young adult novel, Behind These Hands, about a teenager's world upended by Batten Disease. Her first book, Crazy, depicts a teenage girl secretly struggling with her mother's bipolar disorder in the sixties. This highly ranked book is a Junior Library Guild selection. Both books, based on real-life perils, are written as novels-in-verse.
As a third-grade teacher, Linda Vigen Phillips faced the plight of a young boy, starting to stumble and lose his sight. One day, his devastated parents told her of his sudden diagnosis of Batten disease, a rare, fatal, inherited disorder.
Batten disease strikes ages five to ten years. The child will become blind and bedridden with a steady decline in cognitive abilities. Little hope exists for survival out of his or her teens.
Within weeks, Ms. Phillips, still in shock, learned that her pupil's younger brother, by only two years, received the same diagnosis, Batten disease. Further, a third-grade girl, across town at another school, also joined the ranks of those hit by this frightening disease.
"Those stories just touched my heart," said Linda Vigen Phillips. "I wrote Behind These Hands as a fictional story about a young girl, a piano prodigy, who struggles to reconcile the joy that music brings to her life while her little brothers succumb to an early and ugly death.
"I wanted to highlight the celebration of life for families when they realize that the clock is ticking. I hope Behind These Hands speaks to the children and their families who are dealing with rare diseases."
Kirkus Review lauds the book as "a richly woven, unforgettable symphony of feeling and words," while praising the story for bringing "awareness with sensitivity and grace to a rare, always fatal disease."
Behind These Hands is available at Amazon, Barnes & Noble and IndieBound.
About Linda Vigen Phillips
Linda Vigen Phillips is an award-winning author of young adult fiction. Her first book, Crazy, is a multiple award-winner, including the 2014 INDIEFAB Book of the Year Award, Gold Winner for Young Adult Fiction; New York Public Library Best Books for Teens 2014; Junior Library Guild selection; and BookRiot's 100 Must-Read YA Books in Verse. She is a nationally recognized keynote speaker and workshop presenter. As a staunch advocate for mental health, she co-founded Providence Place in Charlotte, North Carolina, providing social and cultural enrichment support for families dealing with mental health. She also serves on the board of the National Alliance on Mental Illness (NAMI-Charlotte). She earned her Bachelor of Arts in Sociology from the University of Oregon and her K-6 Teaching Certificate from the University of North Carolina, Charlotte (UNCC). Website is http://www.lindavigenphillips.com. Twitter is https://twitter.com/lvigenphillips.
Contact:
Juliette Weiland
Public Relations Consultant
704-843-0325
http://www.lindavigenphillips.com