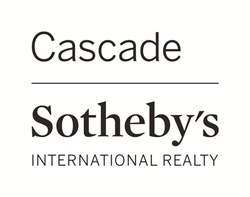 Cascade Sotheby's reputation for exceptional service, marketing, and international reach were the drivers for our decision to list with them.
BEND, Ore. (PRWEB) May 21, 2018
2018 is already proving to be another banner year for Cascade Sotheby's International Realty. In the first quarter of 2018, the brokerage has seen steady growth the Portland Metro area as well as a 30% increase in market share. The firm increased its market share in SW Washington by 50% and more than doubled its closed sales volume for the same period from the previous year.
Much of Cascade Sotheby's growth stems from its success in the high-end real estate market: the brokerage just closed the sale of both the prestigious Fountain Plaza condominium at KOIN Tower and the historic Thomas J. Autzen house. The transactions represent expanded growth for Cascade Sotheby's as market share continues to escalate west of the Cascades at all price points but also in the premium home market.
The KOIN Center penthouse, owned by the late Earle M. Chiles, grandson of renown supermarket pioneer Fred Meyer, boasts 5,681 square feet and spans three-fourths of the KOIN Tower's 30th floor with a 360-degree view of the Portland landscape and Mount Hood. Few Portland icons offer quite the history and esteem as this superstructure and its most distinguished double unit: The Plaza Fountain penthouse. Sales information was not disclosed.
"We were pleased to market this property through the prestigious Sotheby's brand—their reputation for exceptional service, marketing, and international reach were the drivers for our listing decision," said Scott Howden, longtime Chiles Vice President and Real Estate Manager. "The company demonstrates expertise in how to serve buyers and sellers alike—and their understanding of the international market brought a larger audience to this unique home."
The sale of the Thomas J. Autzen house also just closed. The brick-and-stone, half-timbered Tudor-style residence designed by Kirkland Cutter showcases the exceptional workmanship and stunning use of natural resources. It was meticulously and thoughtfully renovated over a 2-year period maintaining original design elements with a contemporary influence.
"This historic masterpiece, originally offered at $4.3 million, sold in only 15 days," says Michael Babbitt, managing principal broker, Cascade Sotheby's International Realty. "This relatively quick sale epitomizes Cascade Sotheby's mission to provide exceptional service to both buyers and sellers of luxury properties." Sales information was not disclosed.
According to a recent report by the real estate professional's resource Keeping Current Matters, a trend that has been emerging for some time now is the contrast between inventory and demand in the premium and luxury home market versus the starter and trade-up home market, and what that in turn is doing to prices: inventory continues to rise in the luxury home market which is causing prices to cool.
Babbitt points out that as the premium and luxury home market is turning into more of a buyers' market, there is all the more reason sellers need brokers expert in selling higher end homes. In fact, of special note, the average price point for Cascade Sotheby's agents is 33% higher than other agents in the Portland and SW Washington market.
"Cascade Sotheby's is honored to continue to sign listings in all price categories as well as in the premium home category of $1 million and above," said Deb Tebbs, CEO and franchise owner, Cascade Sotheby's International Realty. "It is an incredible testament to the reputation of our brokers, the power of the Sotheby's brand, a world class network, and global reach to larger markets."
Cascade Sotheby's, which has expanded throughout the Oregon and SW Washington real estate market, reported $1.3 billion in total transaction volume in 2017, representing $32 million in company revenue and a 325% increase in sales growth in the last two years.
"Our brokers offer a white glove experience to all clients regardless of the price of their home and anticipate the clients' needs to deliver some of the best service in the market—that's the hallmark of our success," says Tebbs.
The growth continues and Cascade Sotheby's is poised to continue shaking up Oregon's booming residential real estate market.
About Cascade Sotheby's International Realty
Harnessing the worldwide recognition and prestige of the Sotheby's name, Cascade Sotheby's International Realty expertly represents the most distinctive properties at every price range. The firm's 11 strategic locations throughout Oregon and southern Washington form the most expansive luxury real estate network in the Pacific Northwest. Cascade Sotheby's International Realty brokers are masters of their craft, combining local expertise and global connections to artfully unite extraordinary places with extraordinary lives. The firm achieved a billion dollars in sales in the first 11 months of 2016, joining only 25 Sotheby's International Realty affiliates in the world with this distinction. Exceptional service, continual innovation, and unrivaled market knowledge continue to set Cascade Sotheby's International Realty apart as an industry leader.
Contact: Claudia Johnson, Public Relations, 503-799-2220