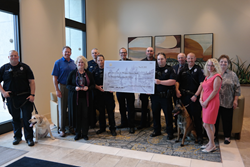 "We are thrilled to be the sole shopping center in the United States to receive the Foundation Award this year," said Deborah Smith, marketing manager for The Village at Meridian. It's an honor to be recognized for our contributions."
MERIDIAN, Idaho (PRWEB) May 22, 2018
The Village at Meridian was presented an award for its Hometown Heroes event, which celebrates local first responders while raising money for the Meridian Police Department K9 unit. The Village at Meridian was presented with the International Council of Shopping Centers (ICSC) Foundation U.S. Community Support Award on May 20, 2018 in Las Vegas. This honor included $10,000 that was donated to the Meridian K9 Unit.
"We are thrilled to be the sole shopping center in the United States to receive the Foundation Award this year," said Deborah Smith, marketing manager for The Village at Meridian. "There are so many beautiful shopping centers across the country doing their part to support their communities. It's an honor to be recognized for our contributions."
The Hometown Heroes event was held on September 16, 2017 to support the local K9 unit. Attendees were treated to live music by bands that have a connection to local first responders, face painting, and mingled with several hometown heroes including policemen, firemen, EMT, K9 officers and more. The Village at Meridian sold plush dogs named after the current Meridian K9 officers with all proceeds going towards funding new K9 officers and equipment. To date, almost $15,000 has been raised from the stuffed animals, bringing the total donation amount to nearly $25,000.
"Giving back to the community and the men and women that keep us safe is a true privilege," said Ramona Merrill, vice president of marketing. "CenterCal Properties encourages us to put on events for causes that we believe in and this was definitely one of them. It's the least we can do in return for all that first responders do for our community."
"This money, along with everything else we have raised to this point, will be used to provide advanced training for our canine teams and purchase ballistic vests and other equipment for all of the dogs," said Berle Stokes, Patrol Lieutenant for the Meridian Police Department. "We also hope to use some of the money to purchase another canine in the future. The Village at Meridian is a fantastic community partner and is truly dedicated to making Meridian one of the safest communities in the United States."
In addition to the Foundation Award, The Village at Meridian was also awarded Silver MAXI Award for Marketing Excellence. This makes the fourth MAXI award that The Village at Meridian has won since it opened in 2013.