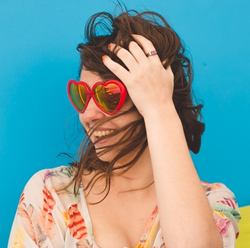 "The only thing worse than death is a life filled with regret." "The moment is now to step up and start to live your truth, so we can manifest more love in the world."
DETROIT (PRWEB) May 22, 2018
Author, digital nomad, innovator, visionary, and truth seeker Colleen Gallagher is now empowering other thought-leader innovators to overcome the obstacles of the world so they can start living the life of their dreams too. Diagnosed with cancer at the tender age of fourteen, Colleen's life has been a rollercoaster journey full of grit, determination, and passion to make the most out of life. Now, at the age of twenty-four, Colleen has devoted her life to creating tools and resources that inspire and empower individuals to take the first step towards living the life they always wanted.
Colleen's cancer diagnosis opened her eyes to many different social inequalities, particularly in the USA healthcare system. This painful phase of life made her believe that the traditional path of earning money is the only way to achieve love and happiness. After her graduation from Michigan State University, Colleen worked as a Sales Engineer for one and half years. However, tired of living life without vision and just for money, she quit and moved across the world to New Zealand to fulfill her dream to live internationally. Also, she has travelled to thirty-two countries, 23 of the 50 USA states and completed three study abroad programs.
The life-changing phase in Colleen's life arrived while attending an Entrepreneur Retreat in Fiji. This is where she developed the passion to empower innovators capable of impacting the world to gain clarity on their vision. With just $5k in her bank account, Colleen dared to follow her dream, quit the corporate life forever and opened Colleen Gallagher International in February of 2018 to have the laptop lifestyle. The creation of Colleen Gallagher International was greatly inspired by Colleen's travels around the world and seeing the social injustices people face. Through this platform, Colleen mentors and empowers ambitious innovators to gain clarity on their vision to impact the world.
Colleen is the creator of a popular 12-week program named "Live the Impossible" where she empowers ambitious innovators to gain clarity on their vision, then motivates them to bring their vision to life, so individuals can feel and see the impact they are having on humanity. Colleen has also written "Live Your Truth," a book that discusses the author's five-step process to look within, remove the negativity, and making the most out of life. Her upcoming venture "Live the Impossible 3 Day Retreat" is expected to be launched very soon.
To find out more about the inspiring story of Colleen Gallagher, please visit https://www.colleengallagher.co/
About Colleen Gallagher: Aged twenty-four, Colleen Gallagher is an author, digital nomad, visionary, and truth seeker. A cancer survivor at the age of fourteen, she has dedicated her life to developing tools and resources that help people lead their best possible life. Colleen's business Colleen Gallagher International is about the individual gaining the clarity they desire, to impact the collective as a whole, with their vision to move humanity forward.