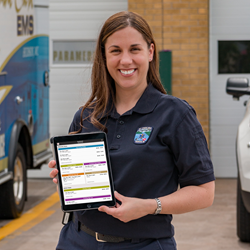 The Aladtec system is reasonably priced and when compared against staff-hours used to set schedules and set payroll. It is well worth the investment. -- Albert Beardsley, Chief (ret.) Georgetown Fire Department, Georgetown, Mass
NORWICH, Conn. (PRWEB) May 22, 2018
Originally named Connecticut EMS Expo, the upcoming EMS PRO conference has morphed into the most extensive Emergency Medical Service convention in New England. It provides a three-day venue for learning, fellowship, and commerce in the 38,000 sq. ft. hall at the Mohegan Sun Casino Resort.
A team from Aladtec, Inc., the premier provider of cloud-based scheduling and workforce management software to public safety agencies, will be among some 130 vendors showcasing products and services during the show.
This will be Aladtec's first visit to EMS PRO but the vendor is no stranger to New England. Currently, 169 EMS, fire, police and sheriff's departments, dispatch centers and healthcare facilities across six northeastern states use the cloud-based software to create schedules, allow staff to initiate shift trades and swaps, manage certifications, e-forms, and streamline other tasks.
"Budgets are tight, and I only spend money on items that will produce the best bang for our buck," said Albert Beardsley, retired chief at Georgetown Fire Department, Georgetown, Mass. "The Aladtec system is reasonably priced and when compared against staff-hours used to set schedules and set payroll. It is well worth the investment. "
The gathering starts with a day of pre-conference workshops May 30, followed by three days of educational classes taught by a range of experts in the EMS field.
Keynote speaker is Connecticut native Kevin Lacz, a decorated former US Navy SEAL, and combat medic -- now a Physician Assistant in Florida. After leaving military service, Lacz was approached to serve as technical advisor to the movie, American Sniper, the story of Chris Kyle, with whom he served in Iraq. Kyle and director Clint Eastwood convinced Lacz to play himself in the Oscar-winning production. Lacz has also published a memoir, recounting his role in the Battle for Ramadi.
Account executive Pete Anderson and systems specialist Jake Tormoen will be attending the conference from Aladtec, Inc. The men will be on-hand at Booth #37 to answer questions from existing customers, and provide demonstrations to anyone interested in learning more about how Aladtec can improve efficiencies and communication at their agency.
Watch this short video of how Aladtec has saved St. Croix (WI) EMS many hours, once spent developing and reworking staff schedules.
Aladtec, Inc., is headquartered in River Falls, Wis. For more information about their affordable program, call 888-749-5550 or visit Aladtec.com to try a free demonstration.