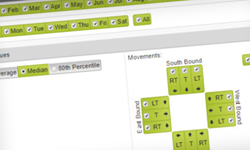 An accurate report of turn movements can be exported as a Synchro-ready file for any selected time period
BERKELEY, Calif. (PRWEB) May 22, 2018
Sensys Networks, the world's leading provider of integrated wireless traffic detection and data systems for Smart Cities, has released SensTurn, an automatic data-collection and analytics solution that optimizes the signal timing of intersections and arterial corridors based on turn movement counts. The newly launched system, part of the SensTraffic data solution platform, helps address the problem of capturing comprehensive turn movement data for a sufficient period of time.
Rather than relying on manual, error-laden counts captured for a study period of only a couple days or weeks, SensTurn automates the data collection and does so continuously over time to fully represent how traffic flows at a given intersection. The result is increased turn movement accuracy based on reliable detection and advanced data analytics.
Key features of SensTurn include:

Synchro-ready reports at the click of a button
24x7 turn movement count report aggregated by month, day of week and/or time of day
Minimal sensors needed at the stop-bar and departure lanes
"Thanks to SensTurn, a traffic engineer responsible for retiming the signals has all of the 24/7/365 data available and can view it aggregated by time-of-day, day-of-week and by month," describes Christopher Flores, Director of Product Management. "Then with a simple click of a button, an accurate report of turn movements can be exported as a Synchro-ready file for any selected time period.​"
For more information on the SensTraffic suite, please visit http://www.sensysnetworks.com/sensturn
About Sensys Networks
Sensys Networks improves the way people travel through cities. We deliver accurate and dependable detection data to drive reductions in urban traffic congestion for partners and public agencies around the globe. For more information see http://www.sensysnetworks.com.