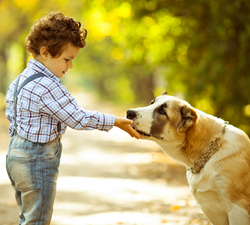 Every child should be taught how to behave safely around dogs, whether there are pets in the household or not.
WILTON, Conn. (PRWEB) May 23, 2018
More than 4.5 million people suffer dog bites each year and summer is peak season for problem encounters – especially for children. According to the Centers for Disease Control, the majority of serious injuries from those bites occur to children between ages 5 and 9.
Most dog bites can be prevented, if both human and pet parents behave responsibly, according to Heather Corum, a pet care professional who trains the trainers at Canine Company.
Teach children the rules
"Every child should be taught how to behave safely around dogs, whether there are pets in the household or not," says Corum, because children can unwittingly provoke an attack, if they don't know these four basic rules:

Never pet a dog without first asking the owner. "If the owner says it's okay, let the dog sniff the back of your hand before you try to touch him," says Corum.
Never disturb a dog that is sleeping, eating or caring for puppies.
Never grab a dog from behind or around the neck, because he may feel threatened.
If a strange dog approaches, stand still and wait. "In most cases, the dog will sniff you and go away once he decides you aren't a threat. Don't run. Walk away slowly with your hands at your side."
Pet parent responsibilities
Because pet parents are legally responsible for injuries their dog causes, it's important that they take all possible steps to prevent their dog from biting. Corum urges anyone with a dog to follow these guidelines:

Follow local leash and containment laws. "A dog should not be running free – even in your own yard – unless you have a high fence or an Invisible Fence® brand system."
Every dog should be trained to obey basic commands like 'sit,' 'stay' and 'come'. While it's best to start when the dog is a puppy, no dog is too old to learn obedience skills.
All dogs should be spayed or neutered. Studies show that dogs are three times more likely to bite if they are not.
If a dog demonstrates any aggressive behaviors, don't wait for a bite to happen. Seek advice from a professional trainer right away.
"I've heard many people say 'my dog would never bite', only to be surprised when it happens," says Corum. "Even the sweetest, friendliest dog can strike out from fear or if she senses a threat. That's why it's essential that the parents of both children and dogs take steps to prevent dog bites from happening."
About Canine Company
Born of a family's love for dogs, Canine Company has been helping families keep their dogs and cats healthy, safe and happy for 35 years. The company serves pet parents across New England, New York and New Jersey with the Invisible Fence® brand systems, Manners dog obedience training, and mobile grooming and pet sitting in select markets. Its charitable Canine Love™ campaign supports pet rescue groups and donates pet oxygen masks to first responders. For more information, visit http://www.caninecompany.com or call 800-818-3647.