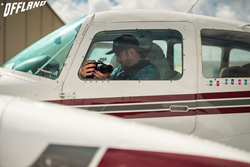 I believe this is the apex industry and it deserves attention.
INDIANAPOLIS (PRWEB) May 23, 2018
Offland Media is proud to announce its new website created to attract the younger generations into the workforce in hopes of reviving the business aviation industry.
Founder, Chris Quiocho, an aviator with over 15 years of military experience and 4x business aviation entrepreneur, believed that it was time to launch a media publishing company that bridged the gap between the traditional concepts of private aviation marketing and the advanced practices that digital marketing technology offers today.
"The private and business aviation industry has not adapted to new consumer behaviors." Quiocho said. "It's just been one giant eco-chamber. Nothing is out there to educate or excite younger generations"
Offland Media's mission is just that—to educate and build awareness about the business aviation industry in hopes of reviving it with new talent like maintenance technicians, pilots, air traffic controllers, airport operations manager, flight attendants and more.
"I believe this is the apex industry and it deserves attention," Quiocho said.
Offland Media believes that by empowering young leaders, they will be able to help build digital experiences for the aviation industry so that they can formulate a decision of what's best for their business.
Visit Offland Media's new website at Offland.com today!
CONTACT:
CHRIS QUIOCHO, CEO
Office: 1-800-604-5193
Email: connect(at)offland.com
###