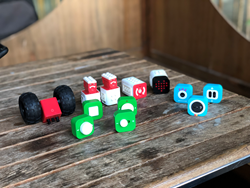 Unlike other coding kits, Tinkamo has a quick learning curve that allows kids to build creations within just 15 to 30 minutes.
SAN FRANCISCO (PRWEB) May 22, 2018
Today Tinkamo launched their namesake product, AI-powered programmable building blocks that merge the technological advantages of learning to code with the chance to build tangible real-world creations. Tinkamo offers a variety of kits, starting at the early bird price of $23 on Kickstarter ($39 starting price retail).
Designed for kids five and up, Tinkamo utilizes the powers of AI, the internet of things (IoT), coding, and hands-on building blocks for a kit that has no templates or boundaries. The coding kit lets kids design limitless real-world creations while learning beginner, intermediate, or advanced programming. Unlike other coding kits, Tinkamo has a quick learning curve that allows kids to build creations within just 15 to 30 minutes.
"When I used other coding kits with my son, I noticed he became very frustrated because he wasn't able to see instant results from his coding," designer Jam Zhang said. "Young kids have limited patience, which can be a barrier to learning. With Tinkamo, we remove this barrier to get them building real-world inventions fast."
Tinkamo uses cutting edge tech that makes use of modules on an accompanying app. The modules are coded and easily transferred to real-life objects for a clear learning connection. Each physically constructable building block is fully "alive", wireless, compact, and are expertly designed to build upon one another. Tinkamo is equipped with AI features including voice and face recognition, voice command, and hand gesture control to manipulate and move the codable building blocks.
Each module can see distance, color and light and can hear sounds and voice. Users can control via button, slider, knob, or joystick. The modules display light with pixel displays and move, spin, drive and swing courtesy of motors and a gear-box. Tinkamo's software creates sounds, including pet sounds, vehicle sounds, user recorded sounds, and musical instruments.
Tinkamo uses four tiers of coding and offers multiple levels for truly progressive play. First-time users can engage with minigames as an introduction to Tinkamo. Beginners are offered easy drag'n'drop flow-based coding app T-flow, while intermediate coderscan use a drag'n'drop coding app based on MIT Scratch. For advanced users, Python will unleash their full power.
"Coding is an increasingly in-demand skill that can be developed at a very young age. With Tinkamo, we aim to teach not just the technical grasp of coding, but also problem solving and creativity," said Zhang. "We believe that everyone, especially our kids, can benefit by getting hands-on with the real-world and tinkering more, while learning a technical skill set for the future."
Tinkamo will be available May 22 on Kickstarter with an estimated delivery date of November 2018. For a full rundown of their pledges, visit the Kickstarter page. Media wishing to interview their personnel should contact PR agent, Jackson Wightman at +1 (514) 605-9255.
Media Contact
Jackson Wightman
Proper Propaganda
(514) 605 9255
jackson(at)properpropaganda(dot)net