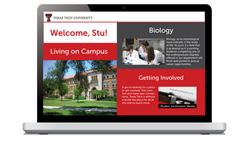 ATLANTA (PRWEB) May 22, 2018
StudentBridge, Inc., leading provider of student engagement & lifecycle solutions for colleges and universities, announces their Personalized Engagement Platform, a software solution that provides higher education admissions departments insight into their prospective students using personalized experiences.
The Personalized Engagement Platform addresses a common issue among admissions professionals: engaging with prospective students earlier in the recruitment process. The platform generates a unique and personalized experience for each student, driven by their interaction. This activity generates an engagement score and valuable insights into student interests, helping the admissions office focus more on the right content for the right students.
"At its core, the Personalized Engagement Platform gives the student and the school a better user experience," said Amy Jeffrey, Senior Product Manager at StudentBridge. "It gives admissions offices the insights into previously unknown students, and gives students a more emotional connection to the school."
The platform not only identifies interests and engagement in individual students, it also provides big picture insights about their prospective student pool. With better insight into their prospective students earlier in the recruitment cycle and more data to personalize further interactions, they are able to increase quality applications, yield and enrollment.
Jonathan Clues, Founder and CEO of StudentBridge, said, "When you don't know anything about the prospective students in your database, you can't effectively target your resources on the ones who are most likely to apply. With more insight, you don't have to waste resources on students who aren't committed, which is key to hitting enrollment numbers on time and under-budget."
StudentBridge serves admissions, marketing, communications and enrollment teams in higher education institutions across the country. This newly public offering of the Personalized Engagement Platform provides a simple, out-of-the-box solution that addresses both shrinking budgets and an increased need for personalization, providing another layer of support throughout the student lifecycle. The Personalized Engagement Platform joins StudentBridge's suite of award-winning student engagement solutions, including Interactive Campus Maps, Video Viewbooks and Campus Bubble.
About StudentBridge:
StudentBridge (studentbridge.com) is an award-winning provider of student engagement and lifecycle solutions. Our products, including personalized engagement platforms, virtual campus experiences and interactive campus maps, dramatically increase student engagement and lead to higher conversion rates. With our innovative recruitment and retention software solutions, our higher education partners have better insights, engage more prospects, and convert more students.