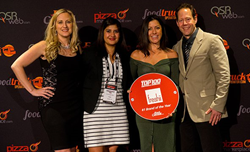 I can't think of a more deserving brand than Freshii.
LOUISVILLE, Ky. (PRWEB) May 22, 2018
FastCasual's editorial team has released its annual list of the industry's most significant brands, awarding Freshii the No.1 spot. The 2018 Fast Casual Top 100 Movers & Shakers publication is now available for free download, and comes on the heels of last night's awards gala that recognized the winners.
This year's list included 75 brands in which judges narrowed down from hundreds of nominations. Criteria included innovation, growth, social responsibility and overall contribution to the industry. The last 25 spots on the list went to the year's most influential people.
"The idea behind our Movers and Shakers list is to recognize brands that are going beyond simply generating positive sales and unit growth," said Cherryh Cansler, editor of FastCasual. "The process has a bit more subjectivity to it. Judges identify the brands that are taking risks and making fundamental changes that are leading the industry. Based on that criteria, Freshii received our top spot this year."
Freshii is one of the fastest-growing health and wellness brands in the world, opening its first 200 stores faster than Starbucks, Dominos and even Subway, Cansler said. By making superfoods like kale and quinoa more convenient and affordable, while continuing to introduce the latest culinary healthy trends, it has become a household name for guests looking to fuel on the go.
In 2017, Freshii reported same-store sales growth of 5.5 percent over 2016, went public, increased its staff count at HQ by 85 percent, grew to 370 restaurants around the world and opened inside sports arenas and hospitals and also began serving food on Air Canada flights.
The company, founded by CEO Matthew Corrin in Canada, plans to have between 730 and 760 stores by the end of 2019, and is projecting an annual same-store sales growth outlook of between 3 and 4 percent for the period fiscal 2017 through fiscal 2019.
"I can't think of a more deserving brand than Freshii," Cansler said.
This year's top ten brands were:

Freshii (#1)
CaliBurger (#2)
Moe's Southwest Grill (#3)
Wow Bao (#4)
Balance Pan-Asian Grille (#5)
Farmstand (#6)
Dickey's Barbecue Pit (#7)
&pizza (#8)
CoreLife Eatery (#9)
Panera Bread (#10)
Click here to read the entire Top 100 report.
The awards gala was sponsored by Taylor, and the Top 100 report is sponsored by Oracle Hospitality.
About Networld Media Group
Founded in 2000, Networld Media Group is a leading business-to-business (B2B) global media communications company specializing in digital media, associations and events in the mobile, self-service, digital signage, retail, food service and financial services industries. Online properties include ATMmarketplace.com, BlockchainTechNews.com, DigitalSignageToday.com, FastCasual.com, FoodTruckOperator.com, KioskMarketplace.com, MobilePaymentsToday.com, PizzaMarketplace.com, QSRweb.com, RetailCustomerExperience.com and BiblicalLeadership.com. Networld event properties include the Fast Casual Executive Summit, CONNECT: The Mobile CX Summit, Interactive Customer Experience Summit, Bank Customer Experience Summit and the Restaurant Franchising & Innovation Summit. Networld also operates the ICX Association. Its newest offering, Networld Press, provides clients with an all-in-one website solution featuring custom website design and ongoing editorial, content strategy and website updates.