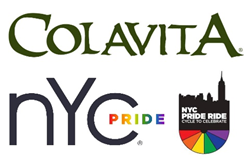 Colavita, the leading family-owned Italian extra virgin olive oil company and long-time sponsor of professional and amateur USA cycling, is an official sponsor of NYC Pride 2018 and Presenting Sponsor of NYC Pride Ride.
NEW YORK (PRWEB) May 22, 2018
Leading family-owned Italian extra virgin olive oil company and long-time sponsor of professional and amateur USA cycling Colavita (http://www.colavita.com) is celebrating LGBTQIA+ Pride as an official sponsor of NYC Pride 2018 and presenting sponsor of NYC Pride Ride.
Colavita has sponsored professional cycling since 2003, the year in which Team Colavita (http://www.teamcolavita.com) was formed. In the following decade and a half, Colavita helped propel numerous athletes on to become national champions, world champions and Olympic competitors. Colavita also supports nine amateur regional cycling teams based out of major cities around the US. Earlier this year, Colavita partnered with the leading Italian cookware and coffee maker company Bialetti to form Team Colavita/Bialetti, a women's pro cycling team, which will be participating in this year's NYC Pride Ride.
"As a family-run and owned business, we truly understand the value of a strong community where everyone is included and diversity is celebrated," says CEO of Colavita USA Giovanni Colavita. "NYC Pride and NYC Pride Ride are the perfect opportunities for us to connect our passion for cycling and healthy living with a very worthy cause."
Colavita and LGBT non-profit organization OutCycling (http://www.outcycling.org) are teaming up to generate excitement during Pride Week with a happy hour at an Italian restaurant and wine bar Al Vicoletto (alvicolettonyc.com) in Union Square, and a kick-off party at the Broadway location of WeWork. Registered riders and supporters of NYC Pride Ride are encouraged to stop by Al Vicoletto on Tuesday, June 5 to pick up their wristband and jersey, mingle with fellow riders and supporters, all while enjoying complimentary hors d'oeuvres and beverages made with Colavita products. On Thursday, June 7, the terrace of WeWork will turn into a party with dinner also prepared with a range of Colavita products.
"NYC Pride Ride has seen tremendous growth in its six years of existence, starting with 100 riders in 2013 to over 500 participants and volunteers in 2018," says Director of OutCycling Graham Weinstein. "We are thrilled to have the support of this new partnership with Colavita and look forward to seeing how it evolves."
Colavita's involvement in cycling is part of Colavita Cares, the company's community outreach program that assists charitable foundations to achieve their goals in fundraising to benefit children, individuals, and families affected by economic hardship, physical disability, emotional suffering, natural disaster, and social discrimination. In addition to NYC Pride Ride, Colavita and Bialetti have a number of charitable initiatives lined up for 2018 including Best Buddies, a program that enhances the lives of those afflicted with intellectual disabilities and teaches children to appreciate the health benefits of cycling, and Tour de Pink (http://www.ysctourdepink.org), a multi-charity bike ride raising money to support young women affected by breast cancer.
For more information about Colavita, its support of the values that drive NYC Pride and NYC Pride Ride, and its sponsorship of both, please contact Diana Zahuranec (dzahuranec@colangelopr.com) or Sam Viklund (sviklund@colangelopr.com) at Colangelo & Partners.
About Colavita: (http://www.colavita.com) A long time ago in the quaint hilltop village of Sant'Elia a Pianisi, located in the Molise region of Italy, two small family businesses were born. They were both Colavita families. Today, the Colavita Olive Oil and Colavita Pasta companies are still family-owned and operating in the same town of their ancestors. They have since joined with another family-owned company, Colavita USA, and together they have shared the fruits of their respective crafts with American consumers for over twenty years.
About OutCycling: (http://www.outcycling.org) OutCycling is a nonprofit 501(c)3 cycling organization whose mission is to provide bicycling activities for the enjoyment of its members and promote bicycling as a means of recreation, companionship, fitness, and transportation. They believe in the importance of the physical and emotional health that cycling provides and strive to share that philosophy with its members.