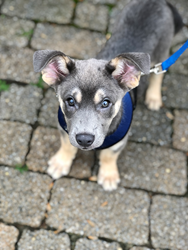 BOSTON (PRWEB) May 22, 2018
The Embark Veterinary Foundation, a non-profit sector of Embark Veterinary, today announces its donation of $3,973.30 to The Sato Project, an organization with a mission of rescuing dogs who have been abused or abandoned in Puerto Rico.
"We're excited that the Embark Foundation could help The Sato Project improve the lives of these dogs who were suffering in Puerto Rico after Hurricane Maria," said Co-founder of Embark Ryan Boyko.
Founded in 2012, The Sato Project works to provide veterinary care to helpless dogs living on the island and brings those ready for adoption to the New York area to find forever homes. The group also works with dogs affected by natural disasters, including Hurricane Maria. Maria ripped through the Atlantic in September of 2017, leaving only damage in her wake. The storm is reportedly the worst natural disaster on record in Puerto Rico.
"The Sato Project is extremely grateful for the Embark Veterinary Foundation's support of our rescue efforts in Puerto Rico," said President and Founder of The Sato Project Chrissy Beckles. "Their grant is helping us rescue another 50 dogs abandoned after the devastation of Hurricane Maria, by contributing to their veterinary care before we fly them off to new lives in the New York area. Thank you for helping us ensure that the many stray and suffering animals on this island are not forgotten."
If you are interested in donating to the Embark Veterinary Foundation to help other dogs, please email philanthropy(at)embarkvet(dot)com.
Embark Veterinary, Inc. launched in 2015 with a mission of ending preventable diseases in dogs. An Embark dog DNA test enables a pet owner to learn about their dog's breed, ancestry, health, and more with a simple cheek swab. The company offers the most accurate results by using 20 times more genetic information than any other test available. Pet owners can potentially extend their dog's lifespan by testing with Embark, as the company looks at over 160 genetic health conditions. The company was started by two brothers with years of experience in dog research and is an official research partner with Cornell University's College of Veterinary Medicine. To learn more about Embark Vet, visit embarkvet.com.
Embark Veterinary, Inc.
125 Kingston St. STE. 301
Boston, MA 02111