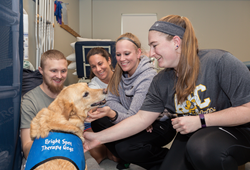 I care very much about the emotional well-being of my students and I thought Woody could make a contribution.
SPRINGFIELD, Mass. (PRWEB) May 23, 2018
While the growing trend on college campuses is to have pet therapy dogs visit students during mid-term and final exams, American International College (AIC) saw the need for immediate stress reduction for students, faculty and staff and has secured its own resident pet therapy dog.
The golden retriever mix named Woodrow, or Woody to his friends—and he has quite the growing fan base—is on AIC's campus daily throughout the academic year as well as during the summer months when requested. Students, faculty and staff can visit with Woody in the office he shares with the College's Senior Public Relations Specialist Candy Lash by appointment though walk-ins are accepted and common.
However, Woody does not limit his therapy sessions to AIC's Schwartz Campus Center where his office is located. Not a day goes by when Woody and his handler Lash are not seen in the College's quadrangle or visiting a classroom on behest of a faculty member or others.
In fact, it is the spontaneous interactions with the campus community that are sometimes the most profound as they arise out of organic life situations happening in real time. In these cases, Woody just happens to be in the right place at the right time.
At the busiest and most stressful times of the year, which generally occur during freshman move in, exam periods and end of the year activities including Commencement, Woody is frequently called upon by faculty and administrators to support the emotional well-being of students and staff across the campus community. In addition, he is often a touchstone for the missed pet at home syndrome, when home may be states or even countries away.
The demand for Woody's time increases every semester as his reputation spreads. When finals week approached this year, AIC Professor of Physical Therapy Phyllis Clapis, PT, DHSc, MS, OCS, requested a visit for her students preparing for their lab practical exams. Stated Clapis, "I care very much about the emotional well-being of my students and I thought Woody could make a contribution. This is a particularly difficult time for them in the course of their studies. When I told them Woody was coming for a visit, they were really excited. He definitely took their stress level down a few notches."
It was two years ago that Lash acknowledged that Woody was "just too nice a dog not to share," and enrolled him with Bright Spot Therapy Dogs, Inc. This organization is a registered nonprofit dedicated to placing well trained certified therapy dog teams in meaningful programs that provide comfort and caring through the human-canine bond. At the same time, Lash talked with peers and administrators at AIC who welcomed the idea of a resident therapy dog. The rest, as it is often said, is history.
It is not just students who look forward to seeing and visiting with Woody. Recently, AIC's Admissions Offices requested 'Woody Wednesdays.' "We now have standing appointments to give staff a brief midweek break in the work day," says Lash.
"We're a team. Although most people know Woody by reputation, I often have to introduce myself. I used to say, 'Woody belongs to me, but now I just say, I am the person who belongs to Woody.'"
More information about American International College and its program offerings can be found online at aic.edu.
###
Founded in 1885, American International College (AIC) is a private, co-educational, doctoral granting institution located in Springfield, Massachusetts. AIC is an international educational institution comprising the School of Business, Arts and Sciences, the School of Education, and the School of Health Sciences. AIC supports and advances education, diversity, and opportunity for its students and the community.