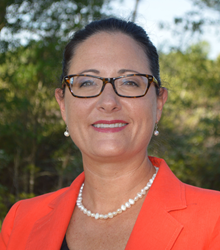 Technology changes at the speed of light. Regulators need to plan for the future."
WAYCROSS, Ga (PRWEB) May 22, 2018
Sherrie Williams, COO of the South Georgia telemedicine networking agency Global Partnership for Telehealth, led one of several strategic planning focus groups at the Association of Social Work Boards' 2018 Educational Conference in Halifax, Nova Scotia on Saturday morning. Williams' presentation, titled "ePractice Across State Lines," focused on educating social work licensing regulators about the ever-shifting technological landscape.
Williams, a licensed clinical social worker herself, said the ASWB tapped her for the presentation due to her vast experience in telehealth. "I was asked to provide 'food for thought' to these regulators so that when they put pen to paper, they have a much clearer understanding of what is happening in the telehealth marketplace in terms of legislation, rules, and trends," she said.
According to Williams, writing sensible rules to govern social workers in the current electronic age is a delicate task. "My encouragement to them was to think strategically," Williams said. "Technology changes at the speed of light. Regulators need to plan for the future and not necessarily the now."
Williams' presentation in Halifax came at the end of a busy week for the nonprofit organization. On Thursday afternoon, CTO Jerad Johnson met with former President Jimmy Carter to begin the discussion of a new clinic in Carter's hometown of Plains, Georgia, and Rena Brewer, CEO, spent much of the week in San Diego at the California Telehealth Resource Center's 2018 Telehealth Summit.
Global/Georgia Partnership for Telehealth (GPT) is a nonprofit corporation whose mission is to deliver worldwide access to healthcare by leveraging technology. With a 12-year track record of success developing and implementing sustainable, cost-effective telehealth programs, we are the leading agency globally focused on increasing access to healthcare through innovative use of technology. Currently, GPT manages a network of more than 650 endpoints, including partner providers, health systems, schools, universities, long-term care facilities, correctional facilities, and international mission projects. For more information, visit our website at http://www.gpth.org.