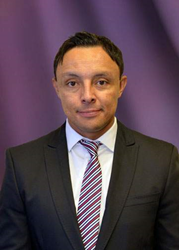 Johan's expertise in serving medical and small-business customers makes him a tremendous asset.
ORLANDO, Fla. (PRWEB) May 22, 2018
Axiom Bank, a Maitland-based, leading community bank, recently named Johan Cardenas as its newest VP, Commercial Relationship Manager in Orlando. In this role, Cardenas will develop new commercial customers for Axiom Bank while maintaining existing relationships.
Cardenas brings more than 20 years of experience in commercial lending.
"Johan's expertise in serving medical and small-business customers makes him a tremendous asset as we look for new opportunities to grow in Central Florida," said Daniel Davis, President and CEO at Axiom Bank.
Cardenas graduated from Los Andes University in Bogota, Colombia, with a bachelor's degree in business administration focused on finance. He is also a member of Prospera Florida, an economic development organization that assists Hispanic entrepreneurs in establishing or expanding their businesses.
For more information about Axiom Bank and to find the nearest location, visit AxiomBanking.com.
About Axiom Bank
Axiom Bank, N.A., headquartered in Central Florida, is a nationally chartered community bank that serves the financial needs of its customers through a wide range of financial products. Axiom Bank provides retail banking services, including checking, deposit, and money market accounts, through 24 branch locations, 22 of which are inside select Walmart Supercenters®. Axiom Bank also specializes in commercial loans for both real estate and business purposes, as well as treasury management and other merchant services. In addition to those services, Axiom Bank sponsors prepaid debit card programs offered by third‐party program managers. As part of its commitment to exceed our customers' expectations and deliver superior financial solutions, Axiom Bank is constantly working to expand the services and products it provides to its communities. Visit our website at http://www.AxiomBanking.com. Member FDIC. Equal Housing Lender.