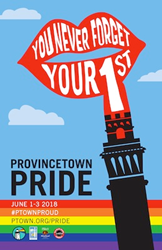 Plan your getaway today and enjoy what's sure to be one of Provincetown's biggest and of course most PRIDEful weekends!
PROVINCETOWN, Mass. (PRWEB) May 24, 2018
Sip cocktails on the Pride ferry, take in the majesty of the "Global Rainbow" art installation, and dance with pride, all at Provincetown's first annual Pride, June 1-3! Sweeten the deal with an All Access Pride Pass, which provides discounts on hotels and inns, restaurants, and more.
The Pride activities begin on Friday June 1st on the official Provincetown Pride Ferry, which leaves from Boston and spirits visitors away to Provincetown for a weekend of dance parties, celebrated art, and other Pride-focused fun. Once onboard, enjoy the tunes of the Pride DJ while you sample drinks from the specialty Pride cocktail menu!
Provincetown is proud to present a highlight of the first annual Pride: The "Global Rainbow." Created by Yvette Mattern, this ongoing public artwork beams colorful rays of laser light across the sky in an incredible display that is visible for up to 20 miles. Mattern has brought the installation around the world, including sites in Berlin, London, Belgium and Art Basel in Miami. Now Provincetown Pride attendees have two chances to view Mattern's stunning work firsthand on Friday and Saturday nights.
Day two of Pride features a festival, an opening, and dance parties galore! Starting at noon, get crafty at the Pride festival where body painting, costumes, and rainbow items are a few of the exciting vendors you will find at the festival. Then get creative and personalize a lantern to hang at the Under the Rainbow dance party. Stick around until 3:30 PM for the LGBTQ Shack opening ceremony. With a flag raising, a ribbon cutting, and authors and other speakers sharing their stories of Provincetown Pride, this free event is not to be missed!
For another free, fun event, stroll through Ptown and take in the window displays featuring "Ptown PRIDE Luminaries" throughout town. Participating shops and galleries will light a path for visitors all weekend long.
Let the dancing begin at The Highly Unofficial 1st PRIDE Sashay. Provincetown's famous Tea Dance takes over the Boatslip every day at 4 PM for a massive dance party. The turnout during Provincetown's very first PRIDE is sure to be an impressive sight! Join fellow Pride visitors and dance the night away under the open sky. Continue the night of dancing with a hop over to Ptown Marina for the Under the Rainbow Dance Party. With special guests, you never know who will show up! Then revel with pride at the official Pride Dance Party at A-House.
Do you take a spoonful of sugar with your brunch? Celebrate the last day of Provincetown Pride on Sunday with Drag Popp'ins! Enjoy your eggs, waffles, and coffee in any restaurant around town and you just might get a surprise visit from your favorite drag queen! Queens will be poppin' in with goodies around town from 11 AM – 3PM on Sunday.
What better way to close out the Pride weekend than at the Sunday Night Underwear PRIDE Pants and Panties Party. Don your best boxers, briefs or thongs for a night of lively entertainment and a bit of decadence!
For special discounts on inn stays, restaurants, and more, get the All Access Pride Pass. To purchase and see the full list of participating venues, click here.
About Provincetown
Provincetown, Massachusetts is a true melting pot. Located on the tip of Cape Cod, Provincetown boasts beautiful beaches, top-rated restaurants, art galleries and charming shops. A top LGBTQ destination, this open-minded community celebrates individuality and freedom of expression. Provincetown has a rich creative history and is home to one the oldest continuous art colonies in the country. The diverse population of artists, sailors, fisherman, authors, and more, makes Provincetown unique. From Carnival in August to Women's Week in October and First Light at year's end, Provincetown is thriving 365 days of the year.