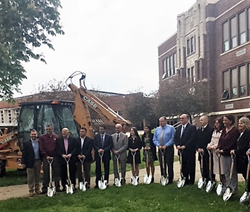 ROSSFORD, Ohio (PRWEB) May 23, 2018
Community officials from Rossford Exempted Village School District and Gilbane Building Company gathered on Monday to celebrate the official ground breaking for the district-wide capital improvements program.
A key focus of the program is community inclusion, which will be achieved through strong local trade participation and a Junior Builder's program that encourages student immersion in the construction process.
Gilbane will serve as construction manager at-risk for the $59 million project. The 263,700 SF program includes renovations and new construction at the downtown campus of Rossford High School and Rossford Junior High School that house students in grades six to 12. The project team has worked closely with the design team, The Collaborative Inc. throughout the project to ensure client satisfaction. Scope of work also includes renovations to the existing Glenwood Elementary School and new construction to house grades pre-K through fifth on the existing Glenwood Elementary School site.
"The Gilbane team is excited for the opportunity to partner with Rossford Exempted Village School District on the construction and renovation projects taking place throughout the district. We look forward to bringing the expertise and lessons learned we've amassed as one of the top builders of education facilities." – Chad Stevers, Gilbane Building Company Senior Project Executive
About Gilbane Building Company
Gilbane provides a full slate of construction and facilities-related services – from pre-construction planning and integrated consulting capabilities to comprehensive construction management, general contracting, design-build and facility management services – for clients across various markets. Founded in 1873 and still a privately held, family-owned company, Gilbane has 46 office locations worldwide. For more information, visit http://www.gilbaneco.com. Gilbane has been providing construction management services in Ohio since 1959.