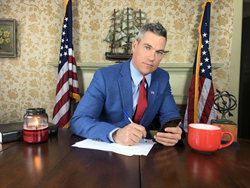 2020 presidential candidate Hart Cunningham seeks to find a solution to this growing conundrum.
TAMPA, Fla. (PRWEB) May 24, 2018
For many Americans, gun ownership is an extremely emotional, near-religious issue. Certainly, it is a divisive topic that must be navigated carefully by any politician. For emerging 2020 presidential contender Hart Cunningham, a Californian born and raised in Tennessee, the way forward is fairly simple.
A Deadly Disagreement
There is a growing conflict in the United States. Groups such as the National Rifle Association maintain a more than 200-year-old amendment to the Constitution must be adhered to today. Other lobbies feel completely the opposite – calling for total gun ownership bans.
The lack of movement on the issue is costing Americans dearly. A June 2014 Slate article reported that "Children between the ages of 5 and 14 in the United States are 17 times more likely to be murdered by firearms than children in other industrialized nations." Since then, how many school shootings have we suffered as a nation, as families? How many children have traumatized for life? Injured physically? Or worse, murdered in a place of learning?
Worse yet, Cunningham says, is the incredibly alarming fact that after mass shootings, "the demand for automatic weapons, for AR-15s, only increases." To compound matters, at gun shows, "You don't need an ID, a permit; you can walk in with cash and purchase any weapon of your choice."
The Middle Path: Strengthening Gun Regulation
For Cunningham, and the more than two-thirds of Americans in support of stricter gun laws, gun ownership is not the real issue – it is the type of gun, and how they are used.
Cunningham pointed out in a recent campaign video that, "Gun ownership within the United States has never been a question. There are 850 million arms in our fine land." He explained, "Guns should be used for protection, for outdoor use, not for internal terrorism." Cunningham then posed the question, "How many AR-15s, AK-47s - how many different types of weapons like these do we want being held and used by American citizens at colleges, within universities, within community centers?"
Calling for the "responsible choice" of strengthening gun regulation, 2020 presidential candidate Hart Cunningham seeks to find a solution to this growing conundrum.
About Hart Cunningham - #Hart2020
Hart Cunningham is running for the presidency in 2020 in the hopes of helping the world overcome struggles due to capitalism, unsustainable economic and environmental practices, and a lack of equality. After being a successful businessman for many years, Cunningham turned his attention to humanitarian work and to bringing awareness to these issues. Originally from the south, he's made his roots in California and has a deep understanding of democratic and republican politics and ideals. True to his name, Hart Cunningham wants to bring the heart back into politics in America and believes that poverty and climate change must be solved for the greater good of our world. Volunteer or contribute to his campaign by visiting, http://hart2020.org.
Follow Hart Cunningham on Social Media
Twitter: https://www.twitter.com/HCfor2020
Facebook: https://www.facebook.com/HartCunningham2020