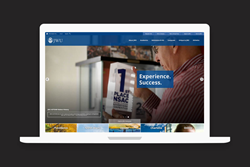 "We have a much larger toolbox of visual ways to display content, all of which work well on mobile devices." — Rebecca Larson, Director of Web Communications, Wheaton College
CHICAGO (PRWEB) May 22, 2018
With thousands of entries received from across the United States and around the world, the Communicator Awards is one of the largest and most competitive awards programs honoring creative excellence by communications professionals.
Wheaton College and Johnson & Wales University both received top marks and the highest honor, the Communicator Award of Excellence, in their respective education and university categories. Wheaton received an additional Award of Excellence for Aesthetic Visual Appeal.
Three Communicator Awards of Distinction were given to Colburn School, Mills College, and St. John Fisher College in the School/University category.
"I'm proud of the design, which has taken our site from looking dated and cramped to looking modern and open," said Rebecca Larson, director of web communications at Wheaton College. "We have a much larger toolbox of visual ways to display content, all of which work well on mobile devices."
"mStoner was a true partner in the website development process from beginning to end," said Judy Silva, associate vice president of marketing at Mills College. "And we're working with them now for our next phase of development. Their entire team excelled at client service and creative problem-solving. ... We worked with the company's leadership throughout the entire process, and they were genuinely invested in our organization's challenges and long-term success."
About mStoner
mStoner, Inc. is a digital-first creative agency. We craft powerful, tailored, human-centric experiences to illuminate your brand and allow you to tell the story only you can tell. We connect you with the right audience at the right time so you can form right-fit relationships. We position your team for improved productivity, sustainable growth, internal alignment, and proof-positive success. And we aim to make your job fun again and help you create inspired work that you are proud to show off. Since 2001, we've worked with more than 350 colleges, universities, and professional schools in the U.S. and abroad. For much more, visit our website at mStoner.com.