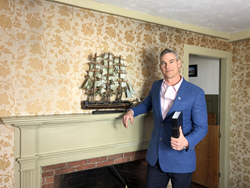 When we think about infrastructure, it must be a solution that solves multiple problems.
SWEETWATER, Fla. (PRWEB) May 28, 2018
It's common knowledge across America that our roads, water systems, and other critical infrastructure are "simply falling apart," as 2020 presidential candidate Hart Cunningham covered in a recent campaign video on water infrastructure. Just how bad is the situation?
The American Society of Civil Engineers estimates a need for more than $300 billion to fund waterway and storm water systems upgrades over the next 20 years. This at a time when the nation is "$21 trillion in debt."
For forward-thinking Americans, this clear predicament demands further inspection and action.
Family Farms in a Drought
Coupled with our water crisis is a spreading food production crisis. The total amount of farmland in America has remained roughly the same for the past century. As Cunningham explains in a campaign video on agriculture and nutrition, "There is not a limitless amount of landmass or nutrition that can be served to the American or world people."
At the same time, the dynamics of family farming have changed, with the number of farms shrinking, and the average size growing. While there were roughly 6 million family farms throughout the USA in 1935, today there are only 2 million. Pressure from large corporations is forcing American family farms out in the form of lawsuits, such as Monsanto, the global leader in chemicals and biotech seeds, filing nearly 1,000 lawsuits against small farms.
Smart Infrastructure for a Prosperous America
Though the nation's water infrastructure problems are grave, and its small farms are disappearing at an alarming rate, these aren't the only problems occurring. From "a lack of water and lack of food, to a lack of housing," America has multiple challenges to tackle ahead. Add to that the imminent "climate change hazards" before us, Cunningham cautions, and it is clear that when "we think about infrastructure, it must be a solution that solves multiple problems."
Cunningham calls for "very intelligent planning with a lot of thought and budgetary action." His top recommendations?
With a Cunningham administration, America would see greater priority given to "vertical farming, safe water storage and infrastructure, and the ability to sustainably grow our infrastructure safely."
About Hart Cunningham - #Hart2020
Hart Cunningham is running for the presidency in 2020 in the hopes of helping the world overcome struggles due to capitalism, unsustainable economic and environmental practices, and a lack of equality. After being a successful businessman for many years, Cunningham turned his attention to humanitarian work and to bringing awareness to these issues. Originally from the south, he's made his roots in California and has a deep understanding of democratic and republican politics and ideals. True to his name, Hart Cunningham wants to bring the heart back into politics in America and believes that poverty and climate change must be solved for the greater good of our world. Volunteer or contribute to his campaign by visiting, http://hart2020.org.
Follow Hart Cunningham on Social Media
Twitter: https://www.twitter.com/HCfor2020
Facebook: https://www.facebook.com/HartCunningham2020