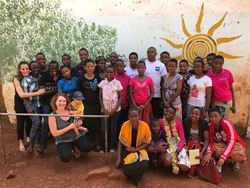 "Educating the youth of our world is not only very important in itself, but when you know it makes a difference in a child's life, that is when it truly matters," said Mr. Gonzalez.
WEST PALM BEACH, Fla. (PRWEB) May 26, 2018
The team at Engineered Tax Services, including, CEO, Julio Gonzalez, and Executive Vice President, Kimberly Lochridge, support the Knock Foundation in a big way.
How Does the Knock Foundation Help Children?
The Knock Foundation is about creating opportunities for underserved populations in developing countries. Currently, in Tanzania, these opportunities are focused on education through the Pioneering Minds school scholarship program for deserving low-income youth and the Conscious Club after school program. This year the organization has 28 students under scholarship in a range of primary and secondary schools in addition to six in university, studying law, education, business, nursing, and medicine.
"Over the past few years, we have had another seven students complete programs and become independent and self-reliant," said Managing Director of the Knock Foundation, Kim Krowne.
"Our after-school program is serving 350 students per year across five primary schools. The curriculum is focused on life skills and health while working to increase the leadership skills and personal agency of club participants through innovative teaching methods and the use of drama, song, and dance," she continued.
Although discontinued in 2018, the foundation's school lunch program served daily lunch to a collective 7,000 primary school students over a nine-year period.
"One of our most recent fundraisers was this past December. That's when Founder, Director, and Financial Advisor of the foundation, Barry Krowne, hiked Mt. Meru (14,977 feet) and did so with four Knock Pioneering Minds students - Bazilla, Evance, Evarist, and Oscar. He raised over $20K - but more than that, he gave these young adults the opportunity to experience a new adventure in their own backyard. All of them made it to the summit," said Ms. Krowne.
Engineered Tax Services is proud to support such a wonderful cause.