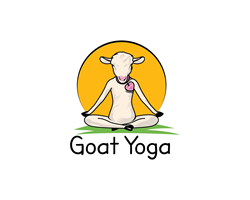 Goat Yoga is about disconnecting from stress and focusing on happy vibes. -Lainey Morse
CHICAGO (PRWEB) May 23, 2018
We're excited to announce the expansion of The Original Goat Yoga brand into NW Chicago. The Elgin location, which is just 30 minutes NW of Chicago is the very first Official Licensee of Illinois. We'll be launching our classes on June 23rd and June 24th at Reverse the Curse Farm owned and operated by Danielle Kerr.
What is Goat Yoga? It is different things for different people. I've heard it described as "calm", "therapy", "zen", and just plain "happiness." However, there is one recurrent description…"unexpected." Unexpected certainly describes my path to Goat Yoga. What started in Oregon on a summer day in 2016 quickly grew into a global sensation with copy cat classes springing up worldwide. Goat Yoga is part yoga, part Animal-Assisted Therapy in a natural setting with loving, social, and profoundly cuddly goats to bond with. It's not healing diseases, but it is an unbelievable distraction from politics, work, stress, sickness or depression. Lainey believes that Goat Yoga went viral for a reason and that is because the World needed a happy distraction.
Register for our classes today on our website or call 1-888-992-GOAT (4628)! Our locations regularly sell out and often have wait lists to experience The Original Goat Yoga so reserve your spot today!