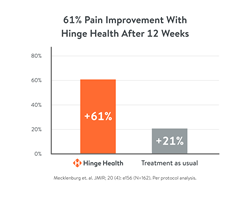 A cost-benefit analysis estimates the study's employer saved $438,000 in avoided surgeries.
SAN FRANCISCO (PRWEB) May 22, 2018
Hinge Health, based in Silicon Valley, is the first digital health company to demonstrate that a mobile-first, at-home exercise therapy and behavioral coaching solution improves outcomes for chronic knee pain by 61% and elective surgeries by 63%. Founded in 2014 by clinical researchers, Hinge Health is a rare digital health company to choose the higher hurdle of demonstrating statistically significant outcomes in a pre-registered randomized control trial (N=162).
In an analysis of participants that completed the clinical trial intervention, published April 2018 in the Journal of Medical Internet Research, the Hinge Health treatment group achieved 61% improvement in Visual Analog Scale (VAS) pain from baseline compared to 21% improvement by the control group (P<0.001). Likelihood of surgery decreased in the Hinge Health treatment group from 63% compared to 17% in the control group. A cost-benefit analysis estimates that the study's employer saved $438,000 in avoided surgeries across the 101 participants in the Hinge Health treatment group. Participants who completed the program averaged 3.3 exercise therapy sessions per week and engagement each week averaged 80%.
The Hinge Health 12-week program is best-practice chronic knee pain care delivered in personalized 10-minute activities. The customized program includes unlimited access to 1-on-1 behavioral coaching, exercise therapy with wearable motion-sensors, and interactive education.
Hinge Health COO and co-founder Gabriel Mecklenburg shared, "When someone has back and knee pain, it can be hard to know where to start. At Hinge Health, we are empowering people to manage their care by translating healthcare best practices into 10 minute activities so everyday people can move toward better health."
Hinge Health CEO and co-founder Daniel Perez said, "Few digital health companies publish any data, and even fewer will take the extra step of pre-registering a randomized control trial design. As a company founded by researchers, the whole team wanted to hold ourselves to a higher standard and to give employers confidence that Hinge Health is the best solution to address high musculoskeletal spend."
49-year-old Transportation Manager from Virginia on the Hinge Health program, "Because of this program, I was able to throw the football and spend time with my son. He's been away at college and I haven't seen him since starting the exercises. He was shocked that I was able to run and jump and throw the ball around the backyard with no pain at all."
About Chronic Knee Pain
Chronic knee pain impacts 1 out of 4 adults over the age of 55 and is the second highest category of musculoskeletal spend after back pain. Current recommendations for management of chronic pain suggest that treatments addressing multiple aspects of pain, including physical, psychological, and social, are most effective and are recommended before relying on drugs, imaging, and surgery. However, most people living with chronic knee pain do not receive adequate care, leading to unnecessary use of opioids and surgical procedures.
About Hinge Health
Hinge Health is the number one digital health company to deliver mobile-first, at home best-practice care for back and joint pain. The 12-week Hinge Health musculoskeletal (MSK) mobile program includes unlimited access to 1-on-1 behavioral health coaching, exercise therapy with wearable motion sensors, and personalized education. The Hinge Health MSK program has grown 50% quarter-over-quarter since launch.
Hinge Health is co-founded by clinical researchers, Daniel Perez and Gabriel Mecklenburg, after overcoming personal challenges with musculoskeletal conditions. Thousands of Hinge Health participants have conquered back and joint pain without drugs or surgery. Hinge Health is a leader in utilization-based pricing and guarantees employers a minimum 1:1 return-on-investment in Year-1.
Hinge Health's mission is to inspire movement towards better health. Founded in 2014; Hinge Health has offices in San Francisco, Chicago, and London. For more information, please visit http://www.hingehealth.com.