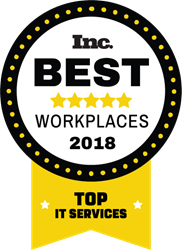 "Inclusive and transparent communication leads to greater engagement and productivity, a shared sense of purpose, and a clearer path of action," said Michael Papay, Co-Founder and CEO, Waggl
SAUSALITO, Calif. (PRWEB) May 23, 2018
Waggl, the leading platform for elevating employee voice, today announced that it has been recognized by Inc. Magazine as one of the Best Workplaces of 2018.
"From the very start, Waggl has prioritized culture as the most critical component of our long-term success," explained Michael Papay, CEO and Co-founder, Waggl. "Last year, our headcount increased by 125%, and in order to keep pace with the constant change and other challenges that come with rapid growth, we had to focus on cultivating agility and resilience. This award substantiates our belief that inclusive and transparent communication leads to greater engagement and productivity, a shared sense of purpose, and a clearer path of action."
Waggl helps enterprise organizations succeed by addressing a key issue for businesses: Employee engagement. According to the last 15 years of research from Gallup, nearly 70% of employees are either not engaged or are actively disengaged, (State of the American Workplace Report, 2017), translating to $605B each year in lost productivity. One of the top causes of this epidemic of disengagement is that employees feel like their opinions don't matter, and that leads to high turnover, low productivity, and worse. Waggl addresses this problem by allowing organizations to continually prioritize and act on issues surrounding culture, events, change, strategy, talent and more.
Waggl creates a real-time, 2-way dialogue that can be used to surface ideas, collect authentic feedback, and build consensus within organizations of all sizes. The company's real-time listening platform creates richer connections between individuals, teams, departments, and locations by asking open-ended questions where favorite responses can be voted up. Waggl enables fast, frequent, focused conversation aligned for strategic decision making on virtually any topic. It gives people a voice, distills insights, and unites organizations through purpose.
Waggl walks the talk by utilizing its platform internally to collect input about everything from product development features to what should be discussed at the weekly all-hands meeting. Waggl team members are encouraged to mindfully express their opinions, and leaders are dedicated to listening for insights and responding to the voices of the larger group. Rather than making decisions in a closed room with a narrowly defined set of leaders, Waggl management exemplifies its core values of inclusion and transparency by increasing the number of people who add their input, and by practicing wider dispersion of knowledge. The co-founders of Waggl believe that sharing the larger vision of where the organization is headed builds a stronger sense of collective purpose and investment.
"After all, the most valuable asset of any organization is its people," said Papay. "By harnessing the collective wisdom of the people who best understand the dynamics of the business, the organization can become stronger and more effective than ever before."
Waggl was also recognized by SF Business Times/Silicon Valley Business Journal as one of the Best Workplaces in the Bay Area for its unique commitment to creating a culture of health consciousness and work/life balance. As part of this commitment, the company provides benefits such as quarterly fitness challenges, Crossfit, walking meetings, educational resources on wellness and healthy eating. Waggl also has a partnership with Harmonia in Sausalito, a unique wellness center that offers yoga, meditation, kayak rentals, and other types of fitness and wellness classes. One of these classes is a weekly bootcamp that many Waggl employees participate in together. Waggl also offers a monthly budget for social activities.
To find out about employment opportunities at Waggl, please contact us at https://www.waggl.com/contact-us/.
About Waggl
Waggl creates radically better employee engagement, powered by employee voice. High performance is driven by engaged people, not measurement and numbers alone. Waggl's software platform boosts human connection and enables informed decision-making, rapid alignment, and immediate action. Waggl delivers actionable insights to leaders, ensures that employee voices are heard, and encourages employee engagement through meaningful inclusion and participation in a transparent dialogue. With a highly seasoned management team and a Board including esteemed executives from Glassdoor, SuccessFactors, and Coupa, Waggl has built a customer-first culture that values strong relationships and ongoing innovation. The company's solutions are continually evolving in response to input from its global customer base, which includes industry leaders such as City Electric Supply, CHealth, BD, and Juniper Networks, among others.
For more information, please visit: http://www.waggl.com/.