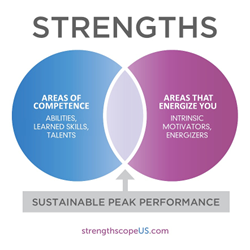 What would happen if you had more energy in your day? What if you had more work that aligned with the things that energized you most?
SAN FRANCISCO (PRWEB) May 23, 2018
There are days that go by fast, and you're in the zone. Then, there are days that drag. How can you reach and maintain your peak performance? How can you do both what you love and what you're good at?
Dragonfly Consultants is proud to announce its partnership with Strengthscope and will be hosting two Unleash Your Strengths workshops. The Unleash Your Strengths workshop is a 2-hour workshop that explores your peak performance by balancing out your strengths and what drives you at work. By identifying your peak performance, you learn to effectively bring forth your best self at work more often. When you love what you do, your productivity increases. You work harder and smarter.
Strengths are your competencies, and energizers are what motivate you. Typical development sessions solely focus on your strengths, but just because you are good at something, doesn't necessarily mean it brings you joy. For example, you may be good at reading numbers, but staring at graphs and forecasting trends may not be so thrilling. So, it's important to find the balance between what you're good at and what fuels you. Unleash Your Strengths workshop helps you find your sweet spot in your workflow so you can allocate your time and focus on areas that are more meaningful and productive.
The Unleash Your Strengths workshop will be powered by your Personalized Strengths Profile completed through Strengthscope, and through immersive exercises, you'll be able to apply your peak performance in not only your work, but also your personal life. Experience full momentum and energy to grow professionally and personally!
Join the "Unleash Your Strengths" workshop in one of two unique and inspiring Bay Area locations on June 12 in Palo Alto, CA or on June 13 in Oakland, CA. Register by June 8, 2018 by clicking here. Sign up by May 25th to get an early bird discount.
Following the workshop will be an hour-long mixer, where you'll have time to connect with other leaders and build your network after the workshop.
Can't make either of these workshops? No problem! Contact Dragonfly Consultants at info(at)dragonflyconsultants(dot)net, and we'll come to you.
About Dragonfly Consultants
Dragonfly Consultants is a certified partner with Strengthscope, which gives access to a suite of assessments allowing Dragonfly to customize a workshop or program based on your unique situation. In addition to the Individual strengths profile, Dragonfly offers Strengthscope Team, 360, Leader, and Employee Engagement assessments. Dragonfly Consultants is also a certified Women-Owned Business Enterprise (WBE) that focuses on executive coaching, organizational culture, leadership development, assessments, and off-sites and retreats to offer a humble, holistic approach to bringing team's more positive and sustainable transformation.