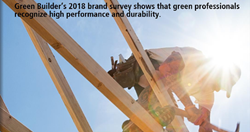 Green Builder's 2018 brand survey shows that green professionals recognize high performance and durability.
LAKE CITY, Colo. (PRWEB) May 23, 2018
You can't fake commitment. That's why our readers chose these hard-working brands that exemplify sustainable building.
Household names, these four brands—Andersen, DuPont Tyvek, Trex and Trane—have come to represent the highest-performance, reliability and quality in the homebuilding industry. Hats off to this year's brand leaders.
Visit http://www.greenbuildermedia.com/the-house-our-readers-built-2018 to check out the house.
About Green Builder Media
Green Builder® Media, LLC is the nation's leading media company focused on green building and sustainable living, affecting positive change by providing inspirational information to over 200,000 progressive building professionals and 38 million consumers who are interested in sustainable living. With a comprehensive suite of content marketing, digital, social, and print media options, high-profile demonstration projects, market research, and live events, Green Builder Media offers a blend of visionary and practical information covering a broad spectrum of sustainable living topics, including Internet of Things, smart home technologies, energy efficiency, water conservation, indoor air quality, resilient housing, renewables and clean transportation. For more information, visit http://www.greenbuildermedia.com.