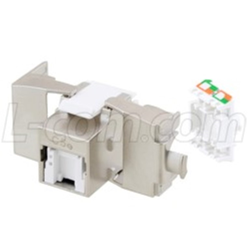 "These new tool-less jacks are perfect for installers and technicians who need to repair or terminate new cable runs. The tool-less design of these unique RJ45 jacks saves time on installs and they provide support for the newer PoE+ standard," said Dustin Guttadauro, Product Manager
NORTH ANDOVER, Mass. (PRWEB) May 23, 2018
L-com Global Connectivity, a preferred manufacturer of wired and wireless connectivity products, announced today that it has released a new series of shielded and unshielded RJ45 jacks that can be terminated to a cable without the use of any tools.
These new Cat5e, Cat6 and Cat6a tool-less jacks were designed to save installers time and money with a quick and easy termination design. Each jack is color coded for both the EIA/TIA568 A and B standards making for fast and foolproof installation.
Additional features include integrated dust shutters to protect the RJ45 jacks, rear gates for preventing accidental disconnects and PoE+ (802.3at) compliance.
"These new tool-less jacks are perfect for installers and technicians who need to repair or terminate new cable runs. The tool-less design of these unique RJ45 jacks saves time on installs and they provide support for the newer PoE+ standard," said Dustin Guttadauro, Product Manager.
L-com's new tool-less PoE+ compliant RJ45 jacks are in stock and available for immediate shipment.
For more information about this release, please contact:
Peter McNeil
L-com Global Connectivity
17792 Fitch
Irvine, CA
978-682-6936 x1174
About L-com Global Connectivity:
L-com Global Connectivity, a leading manufacturer of wired and wireless connectivity products, offers a wide range of solutions and unrivaled customer service for the electronics and data communications industries. The company's product portfolio includes cable assemblies, connectors, adapters, antennas, enclosures, surge protectors and more. L-com is headquartered in North Andover, Mass., is ISO 9001: 2008 certified and many of its products are UL® recognized. L-com is an Infinite Electronics company.