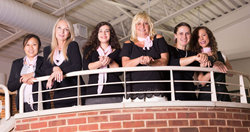 I credit our entire team for creating a culture of hospitality - Shye Gilad, ProJet Aviation CEO
LEESBURG, Va. (PRWEB) May 23, 2018
ProJet Aviation has been named to the Best Places to Work list by the Washington Business Journal for 2018, marking the second time that ProJet has received this honor.
The Washington Business Journal's Annual Best Places to Work program honors 100 Greater Washington companies that scored highest among hundreds of employers that participated in Quantum Workplace's annual employee engagement survey. The Best Places to Work results are quantitative, based on survey responses from employees themselves, rather than a panel of outside judges.
"This award is so special because it comes from direct feedback from our entire team," said Julie O'Brien, General Manager of ProJet Aviation. "We have a dedicated and committed team that truly believes in taking care of each other, and I am proud to say that it confirms what we already knew: we love it here."
The Leesburg Town Council and Leesburg Economic Development Commission further honored ProJet with an Ambassador Award at the 17th annual Leesburg Business Awards. It is the second time that ProJet has won this recognition, for promoting a positive image of the town as a business location and tourist destination through its support of the Leesburg Airshow, active involvement in business and tourism events, and its creation of the annual Aviation Education and Career Expo.
"It is just an incredible honor to be recognized by our coworkers and our community in the same week. I credit our entire team for creating a culture of hospitality, where they value working together as much as welcoming thousands of visitors to the DC Metro Region, and Virginia's horse and wine country," said ProJet Aviation CEO Shye Gilad.
About ProJet Aviation
ProJet Aviation is the DC metro region's premier aviation hospitality company, dedicated to helping people accomplish extraordinary things through the wonder of private flight. The company operates ProJet Center, a Fixed Base Operation (FBO), at Leesburg Executive Airport (KJYO), general aviation's gateway to Washington DC, Dulles, and Virginia's Horse & Wine Country. Established in 2007 as a partnership between former airline pilot and entrepreneur Shye Gilad and noted entrepreneur and philanthropist Sheila C. Johnson, Founder & CEO of Salamander Hotels and Resorts, ProJet Aviation combines the operational integrity of the world's best airlines with the refined service of a world-class resort. ProJet's numerous accolades include recognition as a Washington Business Journal's Best Place to Work, Loudoun County Chamber's Service Business of the Year, and an Inc. 500/5000 Fastest Growing Company.