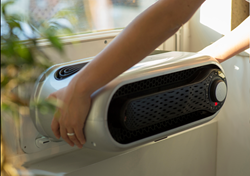 Our vision is to change the home climate market one room at a time starting with the window air conditioner and we need investors who understand and support that vision — Ben Franklin is that kind of partner. —Kurt Swanson, founder & CEO
PHILADELPHIA (PRWEB) May 25, 2018
Kapsul receives $400,000 investment from Ben Franklin Technology Partners of Southeastern Pennsylvania (Ben Franklin) to further commercialize Kapsul's technology and home climate product offerings.
Kurt Swanson, founder and CEO of Kapsul says, "It's extraordinarily important for us to have the support of a regional funder as prominent as Ben Franklin. Our vision is to change the home climate market one room at a time starting with the window air conditioner and we need investors who understand and support that vision — Ben Franklin is that kind of partner."
Ben Franklin Technology Partners is recognized as a national leader in technology-based economic development and was ranked as a top-10 venture capital firm nationwide by Entrepreneur Magazine. Ben Franklin has also been recognized by the International Economic Development Council and the U.S. Department of Commerce for excellence in technology-based economic development.
Chris B. Myers, founder and COO, added the startup is planning on creating new jobs this year. "We're building Kapsul as a Pennsylvania company and we're creating high skill jobs for engineers and Internet professionals in the city of Philadelphia," Myers says. "This offers a perfect fit for Ben Franklin's focus on regional economic development. We just hired a community manager and have a full-time team of 7 in our center city Philadelphia office. Now we are in the process of hiring a marketing manager and plan to double our full-time staff by the end of the year."
Mark DeGrandpre, Ben Franklin's Director of Investments, noted that "Intriguing opportunities arise when companies bring novel, game changing innovations to staid, mature industries. Kapsul has done just that in the field of home climate starting with their air conditioner. I believe Kapsul is poised to become a truly great company, and we are delighted to welcome them to the Ben Franklin portfolio of investments."
About Kapsul
Kapsul's mission is to reinvent the home climate market worldwide with beautifully designed products that users love while delivering better performance to both individual users and the grid. Kapsul will manufacture a range of premium products across cooling, heating, and air treatment. Soon to market are the W5, 5,000 BTU window air conditioner, a larger 8,000 BTU version and 50 and 70-pint dehumidifier / humidifiers. On the development roadmap are portable and split air conditioners and room heaters. All Kapsul products are connected to web services and compatible with popular smart home platforms like Works with Nest, Alexa and Google Now. All carry onboard heat, humidity, energy usage, and ambient light sensors. Kapsul is a Techstars Boston 2018 company and based in Philly. Kapsul is the brand name of Premium Home Comfort Inc. Learn more at http://www.kapsulair.com
About Ben Franklin Technology Partners
Ben Franklin Technology Partners of Southeastern Pennsylvania is the most active early stage capital provider for the region's technology sectors. Ben Franklin combines best practices of venture capital with a public-spirited purpose: leading the region's technology community to new heights, creating jobs and changing lives for the better. Ben Franklin is an initiative of the Pennsylvania Department of Community and Economic Development and is funded by the Ben Franklin Technology Development Authority. http://www.sep.benfranklin.org